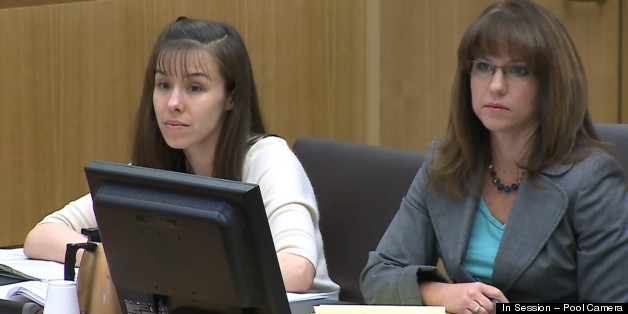 PHOENIX, Ariz.. –- The prosecution and the defense in the Jodi Arias trial are determined to fight it out to the bitter end during the last day of testimony Wednesday.
It has been about four months since the start of the trial. For roughly 17 weeks, the jury and courtroom watchers alike have listened to graphic testimony from a parade of witnesses, including the defendant herself.
Now, on the final day of testimony, Arias fate could come down to the opinions of two new witnesses.
The prosecution completed their rebuttal arguments on Friday, but in a surprise move, Judge Sherry Stephens granted a defense request to rebut the state's rebuttal witness with one last witness.
Defense attorneys for Arias are expected to call Dr. Robert Geffner to the stand Wednesday, to rebut testimony from state expert Janeen DeMarte.
DeMarte earlier testified that Arias suffered from borderline personality disorder and was not, as the defense has contended, a victim of domestic violence. DeMarte also said she found no evidence to support the opinion of a defense expert that Arias suffered from post-traumatic stress disorder.
Prosecutor Juan Martinez has no intention of sitting idly by while the defense picks apart his experts testimony.
In yet another surprise move, the prosecutor has announced his intention to call another rebuttal witness on Wednesday. The jury is expected to hear from forensic psychologist Dr. Jill Hayes from Louisiana. Martinez intends to use Hayes to rebut Geffner's testimony.
Arias, 32, is charged with first degree murder in the June 2008 slaying of her ex-boyfriend, Travis Alexander. Prosecutors say Arias stabbed alexander almost 30 times, shot him in the head and cut his throat from ear to ear in a jealous rage. The defense contends Arias was a victim of domestic violence and killed Alexander in self-defense. Arias could face the death penalty if convicted.
While testimony in the Arias trial has been anything but quick – with many witnesses spending days, if not weeks on the stand, Stephens said that will not be the case with the last two witnesses. The judge said the trial will go as long as it takes Wednesday to reach a conclusion so closing arguments can begin on Thursday. The jury is expected to begin deliberations on Friday afternoon.
A spokesperson for the court house told HuffPost that if Arias is convicted, the penalty phase of the trial will begin immediately.
BEFORE YOU GO
PHOTO GALLERY
Jodi Arias Timeline