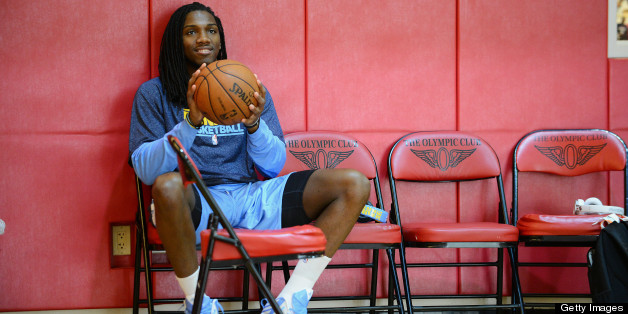 Denver Nuggets' star forward Kenneth Faried was awarded the J. Walter Kennedy Citizenship Award for his outstanding work in the community, the NBA announced on Wednesday.
Faried was honored for his work with Special Olympics athletes and for his membership to Athlete Ally, a group that works to encourage acceptance of others and end homophobia in sports.
Just last February, Faried won the NBA's "Kia Community Assist Award" for his ongoing philanthropic and charitable work, specifically for his work championing equality.
As part of the NBA Cares Pediatric Cancer Awareness Campaign, Faried treated patients and families to a fitness clinic and also personally delivered 44 pairs of sneakers to a local middle school basketball team for use in their upcoming season.
Faried also joined the giveSPORTS Equipment Drive for families affected by the Colorado wildfires and Aurora movie theater shooting in 2012.
"Kenneth's commitment to equality and inclusion is praise-worthy," said Mary Schmitt Boyer of the Cleveland Plain Dealer, president of the Professional Basketball Writers Association in a statement from the NBA. "He has reached out to so many areas in need and touched so many different communities in Denver and Colorado that it is only right to celebrate his efforts.''
Faried became the first NBA player to join an the Athlete Ally organization devoted to fighting homophobia in sports, and said he hopes his involvement will raise awareness of gay rights in professional basketball.
Equal rights for the lesbian, gay, bisexual, transgender community is close to the heart of Faried, nicknamed the "Manimal" for his fierceness on the court. The 23-year-old forward was raised in New Jersey by two mothers, who married in 2007. Faried recently appeared with his mothers in a video for the advocacy group OneColorado, to encourage Colorado to legalize civil unions.
"Becoming an Athlete Ally gives me the opportunity to spread a message of inclusiveness throughout the NBA and our country," said Faried in a statement to The Huffington Post, referring to the non-profit group that advocates for gay rights in sports. "I have two moms and I love them both very much. I respect, honor and support them in every way. The bond I have with them has made me realize that I want all members of the LGBT community -- whether they are parents, players, coaches or fans -- to feel welcome in the NBA and in all of our communities."
Faried is the third Nuggets player to receive the J. Walter Kennedy Citizenship Award. Dan Issel was honored in 1984-85 and Alex English was recognized in 1987-88.
CORRECTION: An earlier version of this story stated that Kenneth Faried was the second Nugget to receive the award, but he's actually the third Nugget to win.