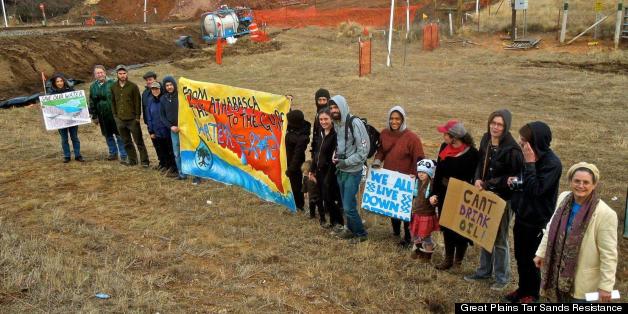 In March 1912, one lucky wildcatter struck black gold in Drumright, Okla.
One hundred and one years later, Wheeler No. 1 is still pumping -- and north-central Oklahoma remains "deeply engrained in oil," said Gwen Ingram, a local artist and yoga instructor.
Ingram worries that this culture of crude has numbed residents to the latest addition to the region's spiderweb of oil wells and pipelines: TransCanada's Keystone XL.
"This is not your grandfather's oil," she said of the Alberta, Canada, oil sands heavy crude that the company plans to push through the pipeline all the way south to refineries on the U.S. Gulf Coast. "But people don't want to hear that."
The line lies a few miles from Drumright -- going in and out of nearby Cushing, the so-called "Pipeline Crossroads of the World", and across a host of other Oklahoma towns, Native American grounds and vulnerable waterways. The proposed northern section of Keystone XL between Alberta and Steele City, Neb., awaits White House approval because it crosses an international border. But the middle Steele City-Cushing link already exists and the southern line to the Gulf Coast is well on its way to completion.
President Barack Obama gave his blessing for the Gulf segment while visiting Oklahoma last March, pleasing many local residents and politicians who eye the promise of jobs and money.
During a House Energy and Mineral Resources Subcommittee hearing this April, Rep. Markwayne Mullin (R-Okla.) commented that "restaurants that hadn't ever been open on Sundays are opening" in his district, thanks to visiting pipeline construction workers. Mullin showed the committee a pin on his lapel with a Canadian flag, a U.S. flag and the words "Keystone Pipeline."
"I love it," he said. "Until the pipeline is approved, I'm going to wear it everyday."
Not surprisingly, Ingram has struggled in her fight against Keystone XL. After holding a number of informational meetings that drew few people, she decided on a new approach to attract attention to her concerns.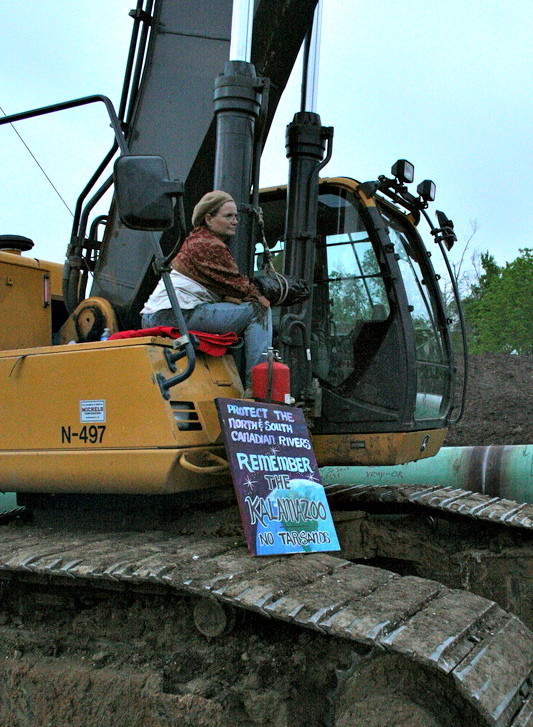 Gwen Ingram temporarily stalls construction of the Keystone XL pipeline by locking herself to the boom of an excavator. (Great Plains Tar Sands Resistance)
On the morning of April 15, Ingram locked both hands around the boom of an excavator at a Keystone XL construction site near Bennington, Okla. The peaceful protest, which landed her briefly in jail, was just one of many carried out in recent weeks by Oklahomans, including a youth pastor and a retired schoolteacher. All see the crude from Canada's oil sands as toxic, a threat to dwindling water resources and a major contributor to greenhouse gases -- costs, they say, that far outweigh the benefits of any brief economic boom.
As Ingram, a grandmother, describes it, stopping Keystone XL is crucial to ensuring a "sustainable future for our kids and grandkids."
Casey Camp-Horinek, an elder with the Ponca Nation, has her eye on both the history and the future of her Oklahoma people, too.
The federal government removed the indigenous tribe from Nebraska in the 19th century. They traveled along what is now known as the Ponca Trail of Tears, finally stopping at the convergence of the Salt Fork and Arkansas rivers in Oklahoma. Many died along the way. Another one in three died after they'd arrived at their new home.
The Keystone XL pipeline would follow the same route.
"We lost so many people that we don't even know which bones of ancestors they'd be disturbing," said Camp-Horinek.
Shawn Howard, a spokesman for TransCanada, noted that the company had "met with the Ponca Tribal Historic Preservation Office to discuss the concerns they have relative to cultural resources and the Trail of Tears," adding that the company has "committed to provide funding for training of Ponca cultural monitors."
Meanwhile, Camp-Horinek said, the Ponca people are still dying. "We're averaging a funeral a week these past five years, and that's for a population of just 600 to 800."
The problem today isn't the cholera, malaria or smallpox that took their ancestors. Rather, she said, it's the air, water and earth.
"It's all polluted here in the oil capitol of the world," said Camp-Horinek.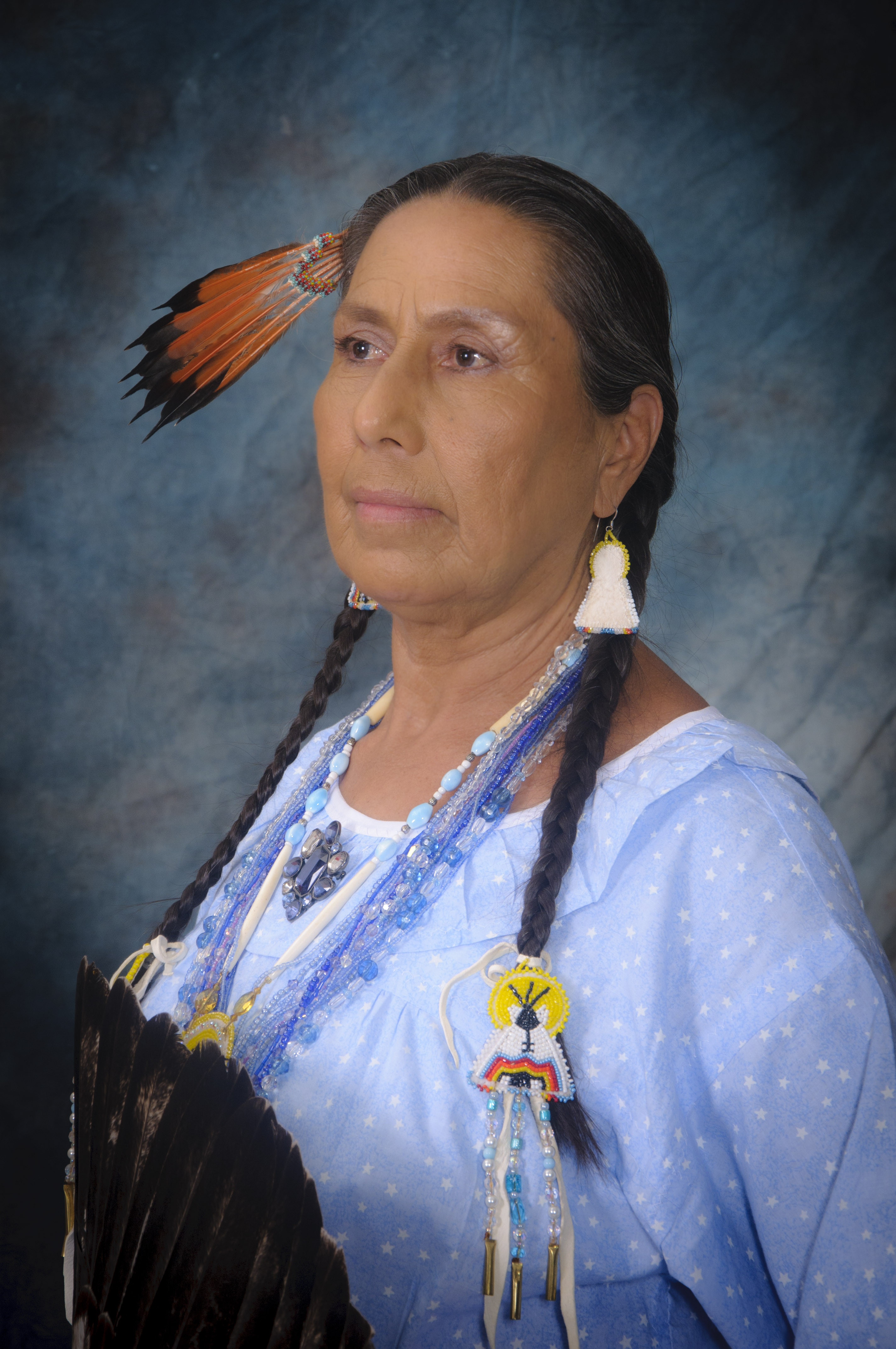 Casey Camp-Horinek believes her Ponca people are suffering from "environmental genocide." (Traci Dewey, Northern Oklahoma College)
After oil was discovered in Ponca lands, around the same time that Wheeler No. 1 was tapped, its exploitation, together with the mining of other resources, started brewing environmental troubles for the tribe. In addition to oil refineries, the checkerboard of Indian and non-Indian lands became home to chemical plants and landfills.
"You can't fish here and trust it's safe. You can't hunt. You can't breathe," said Camp-Horinek.
"We're suffering already from environmental genocide," she added. "Ten years ago, we would have used the term environmental racism. It's way beyond that for us."
Camp-Horinek believes the Keystone pipeline is pushing the Ponca further toward the brink.
Three years ago, she claimed, tribal members accepted used playground equipment from TransCanada in exchange for access to tribal land. The Ponca tribal council confirmed with The Huffington Post that they had received $15,000 worth of equipment from the corporation, but said they could find no documentation of an exchange.
TransCanada's Howard denied that the playground equipment would have been anything other than a gift. "We do not provide community investment funds in exchange for consent on a project," he said. "We invest in communities we do business in and do not ask for anything in return."
Earl Hatley, a longtime environmental consultant to Native American tribes, suggested that Oklahoma tribes have learned to pick their battles. Many simply leave pipelines alone.
"Oil is the sacred cow for the state," he said. "But there's a history of tug of war between the state and tribes over water."
Keystone XL, of course, raises the two issues together.

"You can't clean up a tar sands spill in water," said Hatley, highlighting the ongoing cleanup efforts three years after the Kalamazoo River spill in Michigan, as well as continuing uncertainty following the March 29 ExxonMobil pipeline rupture in Mayflower, Ark. Some reports on the latter event suggest oil has contaminated nearby Lake Conway, while ExxonMobil maintains the lake is oil-free.
"We can't afford one spill like that here," Hatley said.
It's not only the quality of water, but also the quantity that's at issue. Oklahoma is currently battling with Texas over river water rights. Years of drought have sucked both states dry, and scientists anticipate more of the same with climate change.
The pipeline's pumping stations, required every 40 or so miles along the route, would be another consumer of that scarce resource, noted Hatley. Each station would need enough electricity to power about 25,000 homes. "Pump stations use a heck of a lot of electricity," said Hatley, and power plants "use a lot of water."
What's more, if the electricity is generated by coal-fired power plants, the effort will spew yet more pollution into the local communities and add further to the atmospheric carbon dioxide load of the planet, which is poised soon to surpass 400 parts per million for the first time in human history.
Elizabeth Leja, a former high school math teacher, is among the first Oklahomans to have locked herself to Keystone XL construction equipment this year. She recalled teaching her students the concept of exponential growth -- how just a few doublings of, say, population numbers, resource use or greenhouse gas emissions can add up fast.
"The climate is changing, drastically and quickly," she said.
That urgency is driving Leja, Ingram and Camp-Horinek to act.
Ingram is fighting the feeling that it's "already too late," given that much of the pipeline is already laid. But she said she intends to keep doing what she can to raise Oklahomans' awareness.
Camp-Horinek, meanwhile, said she hopes to continue sharing indigenous knowledge of "how to live in balance here on Mother Earth so that our generations to come will have air to breathe, water to drink and food to eat."
"If we could find a way to get through to politicians, to President Obama, that his daughters' great-great-great-grandchildren could be saved by this decision he makes over KXL," she added. "It's that simple."
Part of a series on people living along the proposed path of Keystone XL.