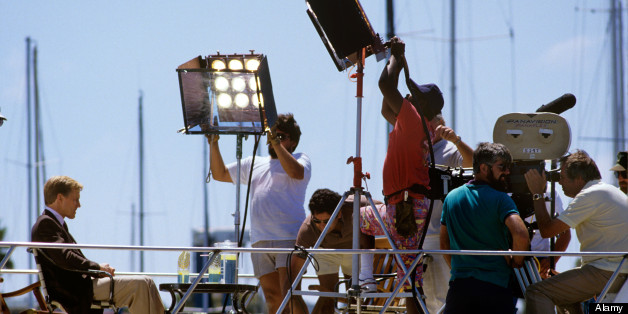 Despite warnings it would drive away the entertainment industry, the county Board of Supervisors on Tuesday approved filming rental rates for downtown's recently opened Grand Park that are significantly higher than those at many other parks throughout Los Angeles.
They voted 4-1 -- with Supervisor Don Knabe voting no -- to charge producers about $1,920 to $12,000 to shoot movies, television shows and commercials at the park for up to 14 hours. For still photographers, the cost is $1,600 to $4,000 for six hours.
On top of those amounts, producers and photographers would have to pay for any labor that county workers perform at the Grand Park related to the shoot, such as maintenance and security.
Edward Duffy, vice president and business agent for Teamsters Local 399, which represents location managers, casting directors, drivers and other entertainment industry workers, yelled at the board from his seat in the audience and almost walked out in frustration.
"Lowering the park fees to where they are now, which doesn't include labor, is still putting it in an extremely expensive price point," he said after the meeting.
Duffy warned the cost of filming in Grand Park could exacerbate the problem of "runaway productions," when movies and television shows use locations in Georgia, Louisiana, Canada and other locations offering tax incentives and other discounts.
"We are bleeding jobs," he said. "From a movie standpoint, we've had one big feature done here (in Los Angeles) a year, when the studios are making 20 or 30."
"My entire family has been in this business since the '30s and I've never seen this happen before," he added. "(Our public officials) have been very blase about all of this, and we have to wake up."
Duffy added Grand Park would be a great location for movies and television shows because it's a rare oasis in an urban setting and commands a gorgeous view of City Hall. As a location manager, he himself used the original fountain in the park as a setting in "Melrose Place" and "Moonlighting." The fountain is also seen in the movie "Pretty Woman."
The board's action slashed rental rates by at least 75 percent. Previously, the cost to rent the entire Grand Park, which sits on four city blocks, is $80,000. Now, it's $12,000, with rental rates for each block ranging from $1,920 to $6,400 a day.
But Motion Picture Association of America state government affairs director Sarah Walsh noted the original rental rates for the Grand Park -- before it was renovated and reopened to the public last October -- was only $450 a day.
Other county-owned parks, such the Los Angeles County Arboretum in Arcadia, and the Descanso Gardens in La Canada Flintridge, charge no more than $6,400 a day and often charge only $3,500.
There are no rental rates for state parks, nor those owned by the city of Los Angeles, though the latter does charge for labor. Filming is also free at state beaches and at Los Angeles City Hall, but the Hollywood Bowl, Music Center and Griffith Park cost $10,000-$20,000 a day.
Supervisor Gloria Molina expressed concern that filming would disrupt programs at the park and shut out members of the public, who attend lunchtime concerts, yoga sessions and other programs organized by the county Performing Arts Center. "I don't think the Grand Park, particularly in its beginnings, is the place to be a backdrop for the film industry," she said.
"I would really like to have the park be available only to the public at this point in time," she said. "Maybe a year down the line, that's something we'd do."
The board did agree to reconsider the rates in six months, and the entertainment industry is likely to stay away until then.
Paul Audley, president of Film L.A., the private nonprofit that processes filming permits for the county, said there has been only one film shoot at Grand Park in the six months since it reopened as "The Park For Everyone."
"The producers didn't know what the filming rental rates were going to be when they booked it," he said. "They were fully committed with equipment and actors and everything else when they were told it was $20,000. They paid that $20,000 but no one has rented the Grand Park since because the rates are just too out of line."
christina.villacorte@ dailynews.com
twitter.com/LADNvillacorte ___
BEFORE YOU GO
PHOTO GALLERY
Zombie Film Locations