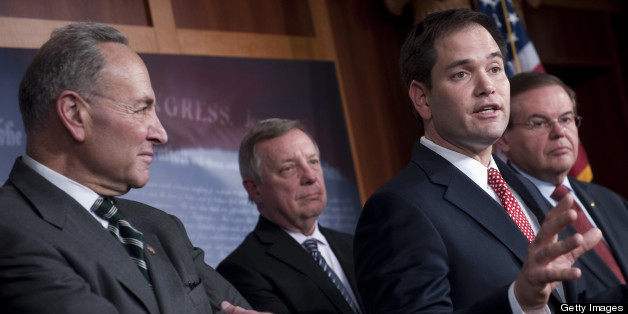 Pew Research uses a simple question to reveal considerable public uncertainty about the immigration reform bill. Polls show public support for surveillance cameras but also worries that anti-terror efforts will go too far. Some House Republicans would end not just the ACS, but all economic indicators too. And -- surprise, surprise -- it's too early to make too much of the Democratic party edge on the generic House vote. This is the HuffPost Pollster update for Wednesday, May 1, 2013.
PEW RESEARCH FINDS UNCERTAINTY ON IMMIGRATION REFORM - The Pew Research Center reveals how peripheral the immigration debate has been to many Americans by asking, simply, whether Americans favor or oppose "a new immigration bill" being debated in Congress. They found a plurality (38 percent) unable to offer an opinion, with the rest divided, 33 percent in favor and 28 percent opposed.
Public paying little attention - "Just 19% say they are following the story very closely. And most Americans are unaware of some of the legislation's visible aspects. Fewer than half (46%) know that the bill would allow unauthorized immigrants to stay in the country while applying for citizenship. And just 37% know that it was introduced by a bipartisan group of senators." [Pew Research]
POLLS SHOW SUPPORT AND WARINESS OF ANTI-TERROR EFFORTS - The new CBS News/New York Times poll finds 78 percent of Americans consider video surveillance cameras a "good idea" to reduce the threat of terrorism. NYTimes' Landler and Sussman: "The receptiveness to cameras on street corners reflects a public that regards terrorism as a fact of life in the United States — 9 out of 10 people polled said Americans would always have to live with the risk — but also a threat that many believe the government can combat effectively through rigorous law enforcement and proper regulation." [NYTimes]
But do we need more cameras? - The CBS/Times finding is roughly comparable to a HuffPost/YouGov poll conducted just after the bombings that found a combined three out of four Americans saying either that we need more "surveillance cameras in public places monitored by the police" (40 percent) or that the number is about right (31 percent). [HuffPost]
Unease about terror overreaction - A new CNN/Time/ORC poll released on Wednesday finds far more concern "that the government will enact new anti-terrorism policies which excessively restrict the average person's civil liberties" (61 percent) than that "the government will fail to enact strong, new anti-terrorism policies" (31 percent). [CNN]
Concern about encroachment on civil liberties was less pronounced on a similarly structured question on the recent ABC News/Washington Post poll that found 48 percent worried that the government would go too far, and 41 percent worried that it would not go far enough "to investigate terrorism because of concerns about constitutional rights." Perhaps efforts to "investigate" sound less invasive for the innocent than "anti-terrorism policies" generally. [WaPost]
But a different reaction in Massachusetts - A new MassInc Polling Group surveys finds support for a "aggressive response" to the terror attacks: "Ninety-one percent of respondents approved of the decision to lock down parts of the Greater Boston area while the second bombing suspect was at large...In the wake of the bombings, the public expressed more concern about public safety than the potential for restrictions on civil liberties. Nearly half (48 percent) said they are more concerned the government will not go far enough to investigate and prevent terrorism while 36 percent were more concerned civil liberties could be infringed." [MassInc]
GOP CENSUS BILL WOULD ELIMINATE ECONOMIC INDICATORS - HuffPost's Michael McAuliff: "The bill, introduced last week by Rep. Jeff Duncan (R-S.C.), would bar the U.S. Census Bureau from conducting nearly all surveys except for a decennial population count. Such a step that would end the government's ability to provide reliable estimates of the employment rate. Indeed, the government would not be able to produce any of the major economic indices that move markets every month, said multiple statistics experts, who were aghast at the proposal. "They simply wouldn't exist. We won't have an unemployment rate," said Ken Prewitt, the former director of the U.S. Census who is now a professor of public affairs at Columbia University. [HuffPost]
NEW POLL GIVES DEMOCRATS SLIM LEAD ON GENERIC BALLOT - "Eighteen months before the 2014 elections, American voters, by a slim margin, say they are more likely to vote Democratic than Republican for Congress, which would violate the historical model of the president's party losing ground in the sixth year of a presidency, according to a Quinnipiac University poll released today. If elections for Congress were held today, 41 percent of voters say they would vote Democratic for Congress and 37 percent say they would vote Republican," [Quinnipiac University].
But a shaky lead - Previous polls in recent months by Quinnipiac and a series of automated surveys by Rasmussen Reports (except for their most recent) all give the Democrats a slight lead. But as the National Journal's Steven Shepard notes, "there's some evidence the generic ballot understates the GOP's support, and Democrats face further structural impediments to regaining the majority." Similar polls early in the 2010 cycle also gave Democrats a slim lead, yet they went on to lose 63 seats and their House majority. Shepard also notes that on the new poll "each party's generic candidate captures 86 percent of their own partisans, while self-identified independent voters are split" -- roughly the same results shown by exit polls in 2012 when Republicans held their House majority. [National Journal] [HuffPost Pollster chart]
And a shaky historical model - RealClearPolitics' Sean Trende argues that the "six-year itch" in congressional elections is a myth unsupported by statistical models that include elections held prior to 1932: "[W]e know that the election should be governed by traditional factors: the economy, the president's popularity, how overexposed the party is. The fact that it is a sixth-year election is, by itself, pretty meaningless. [RCP]
@forecasterenten: "After PPP finds GOP in trouble for background check vote, Q-Pac finds more voters trust Cong GOP on guns...#confusing" [Twitter]
MARKEY AND GOMEZ WIN PRIMARIES IN MA, MARKEY LEADS EARLY POLLS - Democratic Rep. Ed Markey and Republican former Navy SEAL Gabriel Gomez won their respective primaries in Massachusetts on Tuesday. Markey holds wide leads in three early polls conducted in March or April. [Pollster]
EMPLOYMENT SITUATION STILL A STEP DOWN SINCE RECESSION - HuffPost's Arthur Delaney and Emily Swanson: "Americans are more likely to say their current employment situation is a step down from five years ago than a step up, a new HuffPost/YouGov poll has found. According to the poll, 25 percent of Americans said their job situation is a step down from what it was five years ago, while 19 percent said it's a step up. Nearly half, or 47 percent, said that their job situation hasn't changed much." [HuffPost]
LITTLE SUPPORT FOR MILITARY INVOLVEMENT IN SYRIA - Emily Swanson: "Few Americans want the U.S. military to get involved in the conflict in Syria, even those who think Syria has used chemical weapons against its people, according to a new HuffPost/YouGov poll. Only 5 percent of respondents said they would support sending ground troops to Syria, while 68 percent said they were opposed. And support for the military providing weapons to rebel fighters was only barely higher: respondents opposed doing so 51 percent to 12 percent. Conducting air strikes saw 49 percent opposed to 16 percent in favor." [HuffPost]
WEDNESDAY'S 'OUTLIERS'- Links to more news at the intersection of polling, politics and political data:
-70 percent want the death penalty for Boston Marathon bombing suspect Dzhokhar Tsarnaev. [WaPost; ABC News]
-46 percent of Americans say sequester cuts will hurt economy, but 69 percent say they have not been personally affected. [NYTimes; CBS News]
-52 percent don't know enough to have an opinion on sequestration; more with an opinion say it is bad (30 percent) than good (17 percent). [Gallup]
-85 percent of Americans favor legalized medical marijuana [Fox News]
-One quarter of Americans think facts are being hidden about the Sandy Hook shootings [Fairleigh Dickinson Univ.]
-Someone was "push polling" (or lying in their message testing) in South Carolina's 1st Congressional District. [ThinkProgress]
-Dave Weigel says Republicans are winning the war on Social Science. [Slate]
-The RNC is launching a new data-sharing platform, designed to narrow last election's digital divide. [Roll Call]
-Mitch McConnell's campaign pledges to "set a standard" for data-driven GOP campaign in 2014. [HuffPost]
-Jonathan Bernstein ponders why Obamacare has so many problems with public opinion. WaPost
-Harry Enten reminds Joe Biden that McCain had fallen behind before the 2008 crash. [Guardian]
-Democratic pollster Mark Mellman attributes the gun bill defeat on "organizational asymmetry" and the distribution of gun views by state. [The Hill]
-Republican pollster Glen Bolger discusses lessons learned about polling cell phones in 2012. [YouTube]
-Conor Friedersdorf is not impressed with Frank Luntz. [Atlantic, via Bernstein]
-Pollin and Ash answer Reinhart and Rogoff's response. [NYTimes]
-The Pew-Templeton Global Religious Futures project launches a new "data explorer" web site. [GlobalReligionsFutures.org]
-Political Analysis makes its special issue on "Big Data in Political Science" available for free download for a limited time. [Political Analysis]