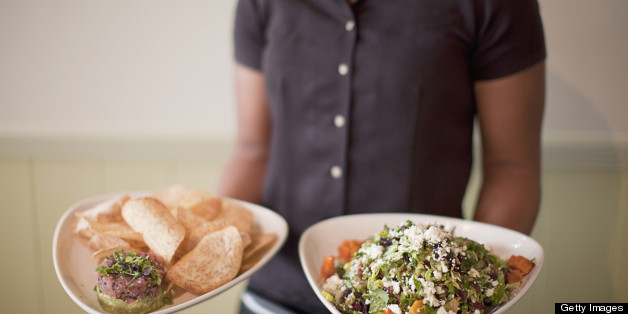 Despite the 2013 world's best restaurant hailing from Spain, you'd be hard pressed to find a person of color among the annual ranking of highly regarded chefs. And according to a report by news site RH Reality Check, the problem extends beyond the restaurant industry's upper echelon.
"We tend not to realize that diversity is not the same as equity -- that simply seeing a lot of restaurant workers from different backgrounds doesn't mean that restaurant workers have equal opportunities to advance to jobs that will allow them support themselves and their families," says Saru Jayaraman, director of the Restaurant Opportunities Center (ROC) in her book "Behind the Kitchen Door," published earlier this year.
As HuffPost blogger Dr. David Leonard notes in his review of Jayaraman's book:
Restaurants are immensely segregated: by location, by job, by placement on the floor, by wage, and by clientele. Servers, bartenders, and hosts are white, while runners, bussers, those in the back of the house, and those who make the lowest wages are overwhelming people of color. Of those who have reported earning less than minimum wage, 96 percent are people of color (pg. 117). Workers of color experience racism and microaggressions; they are more likely to be questioned as to their qualifications (pg. 127). It is a world where irrespective of diversity, in terms of both staff and food choices, racism remains a constant on every menu.
In a 2010 report called "Waiting on Equality: The Role and Impact of Gender in the New York City Restaurant Industry," the Restaurant Opportunities Centers United revealed that women of color are largely segregated by segment in the restaurant industry with 38.5 percent of black women, 33.3 percent of Asian women, and 44.1 percent of Latina women surveyed working in the low-paying quick service sector. Similarly, men held 67 percent of Tier I front-of-the-house positions, while women held only 32 percent, the report states.
"Out of all 14 restaurants I've worked in, I am one of only five women who were in kitchen management," said one African-American pastry chef in an interview with RH Reality Check. "If a woman does get an executive chef position, she is most likely white and blonde," she added. And it's a trend that's lingered within the industry for years.
From Jayaraman's perspective gender and minority gaps within the restaurant industry reflect those of nation as a whole.
"There's a wage gap of four dollars between white workers and workers of color in the restaurant industry," she explained in an interview with ROC. "We've done studies to show that the best-paying jobs in the industry — and there are some good-paying jobs — are held almost exclusively by white workers," Jayaraman says. In the restaurant industry, 66 percent of tipped workers are women, and minimum wage for tipped workers is $2.13 under federal law, she adds, noting that the White House's proposal to raise the minimum wage does offer some relief.
Similarly, women of color earn just 70 cents for every dollar paid to men and just 64 cents for every dollar paid to white, non-Hispanic men, according to the latest U.S. Census Bureau data.
"Women of color are hard hit by a kind of perfect –- and perfectly devastating –- storm caused by discrimination, a struggling economy and the country's failure to adopt family friendly workplace policies," said Debra L. Ness, president of the National Partnership for Women & Families, in a release, highlighting the Partnership's efforts to help close the wage gap.
For the average restaurant-goer, Jayaraman says speaking up goes a long way:
In the back of the diner's guide there are tip cards that people can hand to the manager or owner at the end of your meal ... What we're asking of people is please don't just tip better. Tipping better is great, but it cannot be the only thing that we do to change this industry because we need this industry to change systematically, not just tipping one worker better ... Just like we previously communicated with them that we wanted organic produce and meats in our restaurants, in the same way we need to communicate our values at the end of every meal and say we really want these workers to be paid a decent wage.
BEFORE YOU GO