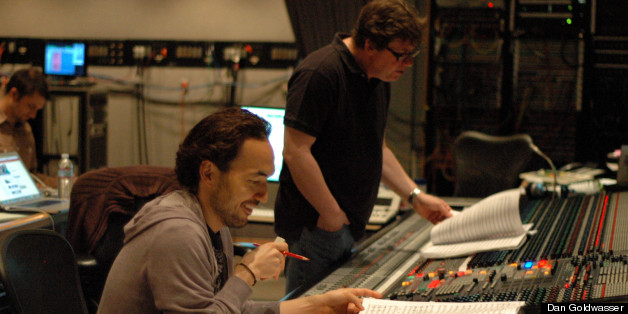 Millions of people have heard Steve Jablonsky's music, even if they've never heard of Steve Jablonsky. The 42-year-old composer has written the scores for the last five Michael Bay films, including all three "Transformers" movies and Bay's latest, "Pain and Gain."
"The one thing Michael Bay does, and I tell him this every movie, is he gives me this huge stage. People are going to see his movies, no matter what," Jablonsky told HuffPost Entertainment. To his point: The "Transformers" franchise has grossed over $2.7 billion around the globe. "He's presenting me with audience to hear my stuff just because he's got the audience already. I'm very appreciative of that."
Jablonsky assisted on scores for the Bay films "Armageddon" and "Pearl Harbor," but didn't get his big break until "Texas Chainsaw Massacre," the horror reboot that Bay's Platinum Dunes production company produced in 2003. His work there impressed Bay, especially because of Jablonsky's compensation.
"It was very low budget, and I was terrified that I would screw it up," Jablonsky recalled. "I just dove in and did what I thought was good. Michael loved it. After we finished he came up and said, 'Man, great job! I know we paid you nothing but you did awesome.' The next thing I knew -- I don't even remember how it happened. It's funny with Michael, you just kind of hear that you're doing 'The Island.'"
Jablonsky's score for "The Island" is famous for the track "My Name Is Lincoln." Since the film's 2005 release, "My Name Is Lincoln" has been used in countless movie trailers and even some at high-profile sporting events.
"That came out and then during the Super Bowl that next year, my friends and I were watching and they used it in the opening film. I was like, 'Holy shit,'" Jablonsky said with a laugh. "Then the at the Olympics in the whole opening montage, they used the same 'Island' piece. It's pretty cool. It just shows people are responding to it in some way."
Despite those past successes, Jablonsky's latest collaboration with Bay for "Pain and Gain" might be his best yet. The fact-based film focuses on three Florida bodybuilders (played by Mark Wahlberg, Dwayne Johnson and Anthony Mackie) who kidnap and torture a rich businessman so that they can steal his fortune. The score is vast -- Jablonsky said there were over 100 pieces of music in "Pain and Gain" -- and does a great job of setting the film's wildly unconventional tone, which careens from triumphant to comic to uncomfortably violent.
"Michael showed me the opening scene and said, 'What I want to do is set up this film from the start. That we're in Daniel Lugo's [Wahlberg's character] delusional fantasy world where he's this criminal mastermind. I want it to be where something is a little bit off, but there's some positivity in there. It's also dreamy because he's on another planet, thinking any of this can work.' That's the brief he gave me, which is where that opening piece came from."
LISTEN: The opening score from "Pain and Gain"
Jabolonsky's electronic-tinged score changes throughout the film as the moods shift: one track sounds like something John Carpenter would have used in "Escape from New York," another has to seamlessly tie into Bon Jovi's "Blaze of Glory."
"There's score, it goes right into the song, then score comes out of it. Then the song comes back. I kind of had to be in the same key. That was a transition thing I had to do with that song just because it was so close to score," Jabolonsky said. "For the most part, though, I don't generally pay much attention to any source material that they put in there."
Jabolonsky worked with Bay on "Pain and Gain" for four months, which he noted was significantly more time than what he's usually afforded on the blockbuster "Transformers" films. The composer will likely return for "Transformers 4," though he's not ready to count those chickens before they hatch.
"I heard I was doing 'Transformers' and I called him and said, 'Mike, I'm doing 'Transformers'?' He's like, 'Of course you are! What do you think?'" Jablonsky remembered. "I never take it for granted. Even 'Transformers 4,' I'm like, I guess I'm doing it, but I'm not going to cash that check until he calls."
"Pain and Gain" is out now; Jablonsky's score will arrive on May 21.
PHOTO GALLERY
Steve Jablonsky Music
BEFORE YOU GO