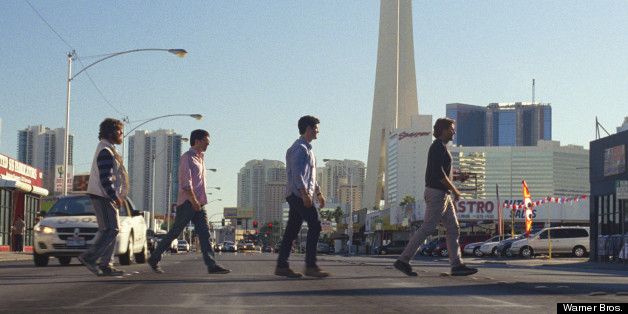 When Bradley Cooper, Ed Helms and Zach Galifianakis were making "The Hangover" in the fall of 2008, it's doubtful they ever thought the film would spawn two sequels and $1 billion in global ticket sales. Yet that's just what happened, and now the "Hangover" franchise is coming to an end: Warner Bros. will release "The Hangover Part III" on May 24, meaning Memorial Day weekend will be the last time audiences get to see new Wolfpack adventures. (At least until the inevitable reboot; right, Steven Soderbergh?)
To celebrate four years of "The Hangover," The Hollywood Reporter brought together Cooper, Helms, Galifianakis, director Todd Phillips and many other involved parties for an "uncensored oral history" of the series. (Never mind that it is censored; all of the swears -- and there are many -- are dashed out.) Ahead, the four most surprising reveals from the new feature.
1. According to Phillips, Jonah Hill, Jake Gyllenhaal and Thomas Haden Church were some of the actors considered for Alan, the part that eventually went to Galifianakis. Paul Rudd and Jack Black, meanwhile, passed on appearing in the film all together. (It's unclear which roles they were offered.) Another big name who was discussed: Lindsay Lohan, as the stripper who falls for Helms' character. Back in 2009, Us Weekly noted that Lohan turned down Phillips request for her to co-star in "The Hangover" because she thought the film had "no potential." Per Phillips, that didn't actually happen.
I did meet with Lindsay Lohan a little bit [before casting Heather Graham], and we talked. Honestly, it felt like she ended up being too young for what we were talking about. People love to attack her for everything, like: "Ha, she didn't see how great The Hangover was going to be. She turned it down." She didn't turn it down. She loved the script, actually. It really was an age thing.
2. Before he was hired, Cooper saw "There Will Be Blood" with Phillips.
3. During the end credits of "The Hangover" -- a montage of photos that fill-in the blanks on the wild and forgotten night that kicks off the movie -- Galifianakis' character is shown receiving fellatio from an older woman in an elevator. He wasn't that thrilled. "I offered Todd's assistant $1,000 to talk Todd into taking that out of the movie."
4. Bill Clinton famously loved the first film and actually met the cast during production on part two. That meeting led to this revelation, relayed to THR by Phillips:
[W]e got to go to dinner with President Clinton. We were like, "Hey, why don't you come by the set?" So he came by. He loved [the first movie]. He loves comedies. At dinner, he goes to his assistant, "What's that movie we watched over and over on the plane?" And the guy goes, "The president loves [2007's Lil Wayne-Big Boi starrer] Who's Your Caddy?"
For much, much more, head over to THR.
[via THR]
PHOTO GALLERY
12 Major Roles That Almost Went To Other Actors
BEFORE YOU GO