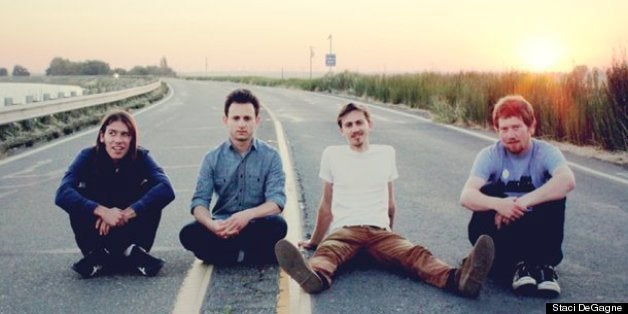 This interview is part of HuffPostSF's My SF series profiling San Francisco's best, brightest and most interesting personalities.
Current Gig: Drummer and singer for the San Francisco-based Stone Foxes.
While the Foxes may situate themselves in the "classic rock" wheelhouse, the band is no nostalgia act. By mixing heavy riffs with crack musicianship and sharp lyrics, the band has quickly developed a rabid following of music fans who, at the end of the day, just wanna rock.
After spending a few months on the road, touring behind their sophomore full-length "Small Fires," the band is coming back to San Francisco this Saturday for a headlining show at the legendary Fillmore auditorium.
How long have you lived in San Francisco? I moved here when I was 17 for college, so eight years. I moved from Tollhouse, Calif. That's a very small place up in the Sierra Nevadas. We lived 20 minutes from a gas station up in real rural country. So the thing that [my brother] Spence [Koehler, who plays guitar in the Stone Foxes] and I used to do for fun was mine for iron with rain gutters.
How do you mine for iron with a rain gutter? So you run out of things to do; that's the first ingredient. The second is that our folks had taken down our rain gutters. We put filters on them and went down in our creek, took a bunch of dirt, put it in the gutters and let water flow though them. In the end, you have iron, which you have no idea what do with because you're eight years old.
Did you guys play music when you were growing up? Yeah.
Well, I played baseball a lot; I loved playing baseball. But Spence quit baseball and started playing guitar. Then I didn't have anybody to play with because the neighbors weren't even really our neighbors because they were, like, three miles away. So I decided I had to learn how to play drums.
What type of music were you guys playing then? Probably not to far from what we do now (laughs). Hopefully we've gotten better. Spence found mom's old "Led Zeppelin IV" record and that was the first thing we ever heard.
That's a good place to start. Right.
Have you always lived in Ingleside since you've been in SF? Before that, the band spent a bunch of years living and recording in a house in the Outer Sunset, down by the beach. We could play as loud as we wanted because, when I went to introduce myself to the woman who lived next door, I said, "Hi, I'm Shannon," and she said "Daniel?" I thought, this is perfect: a deaf woman, we can play at any time we wanted as loud as we wanted.
What's your favorite thing to eat in the city? There's this place called West of the Pecos that our buddies own on Valencia. It's got great tequila and great food. All southwestern kinda stuff. Good place for a date.
Do you have a favorite place in the city? I really enjoy walking on the Embarcadero between the Ferry Building and the ballpark. I know that's where everybody likes to go, but I love going out there on the pier and just looking out. It's also a good place to go on romantic walk. I love it out there, chilling with the seagulls.
The last song on your new album, "Goodnight Moon," addresses homelessness in San Francisco. Can you talk a little bit about that? Being from the rural place that we're from, when you see for the first time how prevalent homelessness is in San Francisco…it was crazy to me. It really hit me in the face, and I couldn't ignore it. The more you see it, the more you get desensitized to it, and the easier it becomes to walk past somebody. But at the same time, anybody can catch themselves and say, "Everybody has a name, everybody deserves to share their story and be recognized."
Are you using your work to help address the problem? We thought a good project to work on would be poverty and hunger. What we've done on this two month...[tour around the country] was collect food at all of our shows and give that food back to a local food bank.
At the Fillmore [show this Saturday], we're working with Episcopal Community Services. They give out something like 300,000 meals a year. All the food that's donated at the show will go to our fans and friends. Everyone can bring food to the show and you can drop it off at the front door.
We just want people to know that at any Stone Foxes shows people can come and drop off food. That's huge for us because we've been singing about social justice issues for a long time and, maybe we walk the walk a little bit volunteering at a shelter, but now we can do something collectively as a band.
Do you think about touring differently now that it has a charitable aspect? I don't want to say that you normally tour without purpose, because just playing music is a huge healing thing. But [this is] getting folks to walk with you and say, "music is awesome, but its not just about that."
Music needs to be a tool to bring people together. So if we're able to make a difference, get fans to think that they can donate anytime they want; that's important. It gives you a huge motivation when you're out there. It's beyond yourself and it's a really powerful thing.
Check out this mini-documentary about The Stone Foxes by Consequence of Sound and videographer Ted Maider:
BEFORE YOU GO
PHOTO GALLERY
San Francisco Best Music Venues