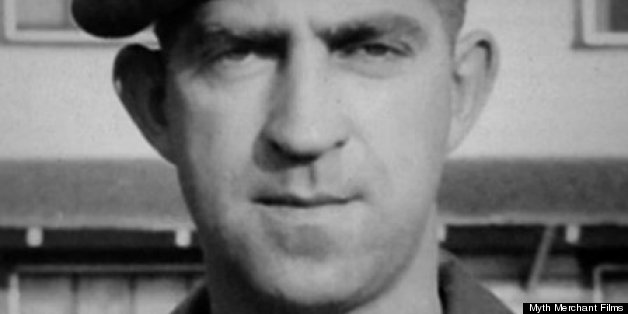 As reports emerged this week alleging the long-lost war veteran in the documentary "Unclaimed" is a fake, the filmmaker fired back.
"Unclaimed" premiered Tuesday at the Hot Docs festival in Toronto where it seized attention for its dramatic premise: A man in a remote village of Vietnam claims to be 76-year-old former Green Beret John Hartley Robertson, who was presumed dead more than four decades ago. Robertson was thought to have been killed in 1968 when his helicopter was shot down over Laos on a classified mission. In the film, which focuses on fellow vet Tom Faunce's search for the missing man, "Robertson" says he survived the crash and was captured and tortured by the North Vietnamese. He later started a family with a Vietnamese woman and never returned to the United States to reconnect with his wife and two children there. According to a preview of Jorgensen's film, covered by the Toronto Star, the man may have dementia and does not speak English.
During a reunion shown in the documentary, Robertson's last-surviving sibling, Jean Robertson-Holley, swears the man really is Robertson. A soldier who trained under Robertson also positively identified him.
But outlets in the U.K. cited military sources who dismissed the man as a fraud. They assert he has impersonated Robertson for years, perhaps to scam money out of organizations devoted to prisoners of war (POW) and soldiers missing in action.
The Independent notes that a memo from a Defense Prisoner of War/Missing Personnel Office report in 2009 says that the man who claims to be Robertson goes by the name Dang Tan Ngoc and is said to be of Vietnamese-French origin.
A spokeswoman with the DPMO confirmed with The Huffington Post that in 2006 the man confessed to interrogators he was not Robertson, and that fingerprint and DNA comparisons backed up the confession.
DPMO spokeswoman Jessica Pierno told HuffPost Wednesday that evidence debunks Robertson's case. Intelligence officials interviewed Dang Tan Ngoc in 2006 at the U.S. Consulate in Ho Chi Minh City. Investigators pointed out inconsistencies in his story, and the man eventually said he was not Robertson but a Vietnamese citizen, Pierno said.
As reported, officials also took DNA and fingerprints of Ngoc, Pierno said, noting that the FBI determined the fingerprints didn't match those on record. The DNA provided no link with two of Robertson's siblings (now dead).
In an interview with HuffPost on Wednesday, "Unclaimed" filmmaker Michael Jorgensen had his own question for the film's detractors: Why not see the film first? "There's a lot of misinformation out about this movie," he said. "I never set out to prove one way or another his identity in this film. My film is not about that."
That said, Jorgensen agreed to address some claims.
Speaking by phone from Toronto, the filmmaker said Robertson's living relatives insist they have never heard from the U.S. government. He questioned why authorities did not reach out to Robertson's family if they were investigating possible fraud or the chance of him being alive. And if Ngoc is a scammer, Jorgensen asked why the man is scamming to live in what Jorgensen called "abject poverty"? The alleged fraudster never solicited any group or relative for money, Jorgensen added.
Jorgensen also took issue with the conclusiveness of the fingerprinting. The filmmaker said that Robertson's last surviving sister claims no one from the family ever submitted DNA. If officials did extract DNA from Ngoc, how could they compare it to any family member? And why didn't officials alert the family that DNA tests were being done on a man who may or may not be Robertson?
"They've never been asked," Jorgensen said. The family had big questions about verifying Robertson's identity, he went on to say, the biggest of which was, "Who are we proving it for?"
Jorgensen doesn't dispute that Ngoc eventually denied being Robertson. However, Jorgensen believed the man reverted to his "default mode" of using his Vietnamese name because he had been threatened previously to not speak of his past as an American soldier.
Making matters even murkier was a Pentagon denial, printed in Canadian news magazine Maclean's, that Roberton's family was tested for DNA.
The notion that a one-time POW lived more than 40 years in Vietnam without returning to society touched the imaginations of many when previews of the film surfaced on Tuesday. There are still 1,649 Vietnam War soldiers unaccounted for, according to the U.S. Defense Department. Finding one alive seemed a story even too far-fetched for Hollywood.
The internet community had stamped Robertson a phony before, but the case's exposure in international media (including HuffPost) this week provoked a firestorm of response.
The questions are not likely to end here. They may even pick up steam when the film is screened at the G.I. Film Festival May 12 in Washington, D.C.
BEFORE YOU GO
PHOTO GALLERY
Vietnam Vet Found After 44 Years