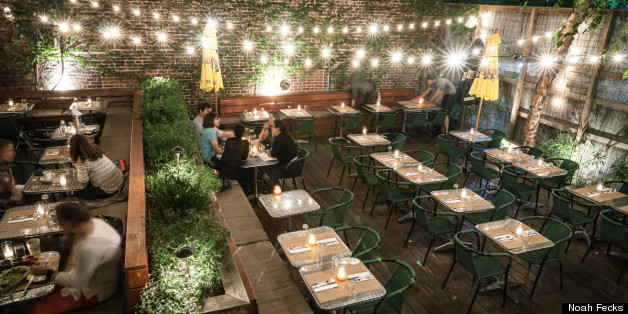 For all the great food New York is known for, the city notoriously lacks good Mexican food. In the last few years, however, this reputation has seen a major turnaround, with a wide range of newcomers redeeming New York for its formerly disappointing Mexican dining options. Upscale newcomers like Empellón Cocina and El Toro Blanco have graced Manhattan; the taco invasion -- in trucks, by the beach or at flea markets -- has hooked hipsters; the popular Dos Toros continues to expand; and star chef April Bloomfield, of the Spotted Pig and the Breslin, has expanded her repertoire with her most recent venture: the impressive Salvation Taco.
What better day to celebrate this culinary renaissance than Cinco de Mayo? Whether you're looking for an all-day fiesta or a taco on the go, here are some of the best places in New York to eat, drink and party on Sunday.
Need to get your margarita on? Empellón Cocina is serving a six-course menu for two seatings on Sunday night, with unlimited margaritas. Yes, unlimited. While you're letting loose over margaritas, you can get serious with a menu featuring dishes like guacamole with pistachios and masa crisps; sliced mango, lime and chile powder peeky toe crab salad; and shortrib pastrami with pickled cabbage and mustard seed salsa.
Want to get a head start? Empellon Taqueria is a serving special, six-course menu on both Saturday and Sunday nights, as well as a brunch menu on Sunday, also with unlimited margaritas. So you can start boozing Saturday night and keep at it all day Sunday, starting your day with eggs and a side of skirt steak and crispy potatoes with chipotle catsup, and fueling up later in the day with fish tempura, cabbage and lime mayonnaise tacos.
If a Cinco de Mayo fiesta means dancing to you, look no further than Gran Electrica in Dubmo, which will be hosting an all-day party (11 a.m. - 11 p.m.) in its gorgeous garden, with DJs spinning Latin inspired music. Tacos and margaritas will also be flowing.
Every Sunday is Bottomless Brunch at Maya (two hours of unlimited small plates and brunch cocktails, so you can celebrate all year round), but this Sunday, in addition to brunch, Maya will also be serving a three-course dinner, with options like gordita de pollo: crispy corn masa, shredded chicken, cabbage salad, pico, mole and cotija cheese; rock shrimp quesadillas with smoked bacon and tomatillo chipotle salsa; and slow roasted pork carnitas: pork tenderloin and shoulder, avocado, black bean mexican ricotta and red onion-mandarin salsa. Top it all off with horchata rice pudding with blackberry tarragon jam and an almond sugar cookie.
If you don't want to make difficult choices for Cinco de Mayo, try the pre-fixe five-course menu at Pampano, which is panning out to be a surf-and-turf lover's dream, with ceviche spoons, jumbo crab salad, grilled tuna and three meat chile relleno, finished off by a refreshing dessert of fruit and sorbet. The restaurant will also kick off the weekend early with a special happy hour on Friday.
Chinatown might not be the first neighborhood you think of when you think of Cinco de Mayo, but leave it to brother-sister duo Christopher and Heather Tierney to make you think again with Pulqueria, their underground Mexican joint on the "bloody angle" -- otherwise known as Doyer's Street -- in Chinatown. From Friday through Sunday you can hear a mix of live music at Pulqueria, ranging from the restaurant's resident DJ Cato to Radio Jarocho, playing Mexican music and folks songs from Veracruz Mexico.
This year Cinco de Mayo is an especially special day at Suenos, which will be launching its first-ever weekend brunch menu on Sunday -- featuring staples like huevos rancheros and breakfast burritos, as well spicier options like coconut-habanero shrimp tacos. For dinner Sunday night, Suenos will be serving special dishes -- like tacos al pastor, tamales and grilled corn on the cobb -- from the Puebla region of Mexico (where the Cinco de Mayo originated with the Battle of Puebla).
If you want to throw your own party, Totaria is here to help, with custom six-packs... of a unique variety. The restaurant is offering fiesta kits built for six people with all the makings for a perfect party. Six-packs include ingredients for a selection of taquitos -- like carne asada with black refried beans, salsa and lime wedges; a selection of tortas -- from pulled pork to crispy eggplant; chips and guacamole and sides like spicy french fries. ¡Olé!
PHOTO GALLERY
Where to Celebrate Cinco de Mayo in New York This Year
BEFORE YOU GO