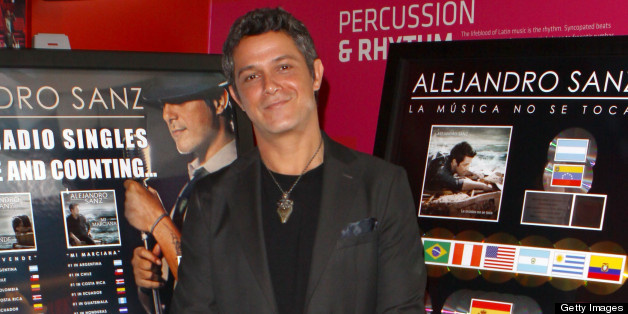 Spanish singer Alejandro Sanz will no longer just be one of the most recognized Hispanic artists in the world, he will also now enjoy his own holiday every April 30th.
The winner of 16 Grammy Awards and three Latin Grammys attended an event on Tuesday at the Grammy Museum in Los Angeles to celebrate the worldwide success of his latest production "La Música No Se Toca," where he also received the tribute.
Jesus Lopez, CEO of Universal Music, gave Sanz several gold and multi-platinum records as a recognition for the three number one hits he reached with his first single in 18 countries. But that was not all, the representative council from the Disctric 9, Jan Perry, was also present and in charge of declaring the official "Alejandro Sanz Day in the city of Los Angeles."
"It is an honor. My mother would be so proud of me," the singer said according to EFE. "I'm excited about this award because in the end there are many hours of work in the recording studio and in different countries. That's the nice part of all this. Knowing those places, make friends and enjoy with people at concerts. And now I have my own day, like St. Patrick," he joked.
Alejandro tweeted out a picture of the document proclaiming his new day and thanking his fans and the city of LA:
Han declarado en Los Angeles el "Dia de Alejandro Sanz", 30 de abril. Gracias a la ciudad y a celebrarlo! instagram.com/p/Yvb_8AQHbx/

— Alejandro Sanz(@AlejandroSanz) April 30, 2013
Sanz also celebrates the beginning of his tour "La Música No Se Toca" which kicked off on Thursday with a show at the Nokia Theatre in Los Angeles. The tour will be heading on now to the Radio City Music Hall in New York, and will expand to other states like Washington DC and Miami.
Alejandro Sanz is currently one of the most internationally acclaimed Latin artists. Author and performer of all his songs, the star has sold over 23 million albums throughout his career and is the Spanish artist with more Grammys.
BEFORE YOU GO
PHOTO GALLERY
27 Celebs You Didn't Know Were Latino