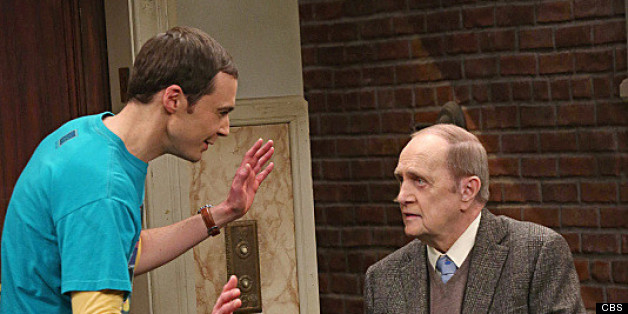 When Bob Newhart agreed to appear on"The Big Bang Theory," he had an important request: that the episode be taped live, just like in the good old days.
"My scenes had to be taped live. There's a tendency to pretape a lot of stuff and put a laugh track on it and you lose something," Newhart, who will appear as Professor Proton on the series, told THR. "With 'Newhart,' 'Lucy,' 'Honeymooners,' 'Mary Tyler Moore,' and 'All in the Family' it was always done in front of live audience. I always felt that the live audience gives it adrenaline. That's the only way I function."
Despite being a TV legend, Newhart wasn't confident that the live audience would know who he was.
"I was a little nervous that the live audience wouldn't recognize me and there would just be silence," he confessed to THR. "They said, 'We'll come up on you,' and thankfully they recognized me; they applauded and stood up. That was very nice."
The episode, airing Thursday, May 2, will center on Sheldon's (Jim Parsons) online search for his favorite TV host, played by Newhart. Once he tracks Professor Proton down, Sheldon discovers he can be booked for events and invites him to his house.
"This is based on something that is ridiculously happening in my own life," "Big Bang" showrunner Steve Molaro told TV Guide. "It's based on me finding my childhood TV hero [Floyd Vivino of 'The Uncle Floyd Show'] and realizing that he's still available for bookings and asking my wife if we could hire him and fly him out to have dinner with us."
Catch Bob Newhart on "The Big Bang Theory," Thurs., May 2 at 8 p.m. ET on CBS.
PHOTO GALLERY
'The Big Bang Theory'
BEFORE YOU GO