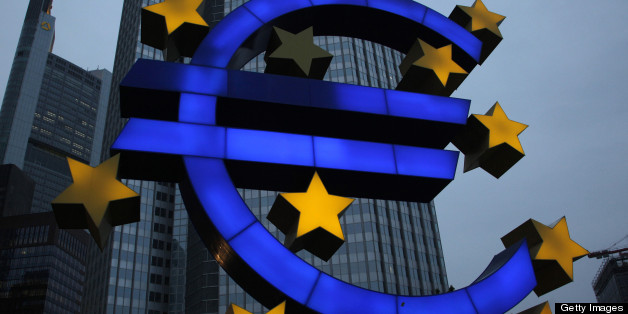 European policy makers have rushed to the aid of their lifeless economy, cutting interest rates and promising that more help is on the way. Too bad they're only about a year too late.
The European Central Bank on Thursday morning cut its key policy interest rate by a quarter-percentage point, to a record-low 0.5 percent. ECB policy makers also cut the interest rate they charge banks to borrow money directly from them by a half-percentage point, to 1 percent.
At a press conference following the decision, ECB President Mario Draghi said the central bank was open to cutting the interest rate on European commercial bank deposits at the ECB into negative territory. That rate is currently at zero, and a negative rate could force banks to pull money out of the ECB and start moving it around the economy.
Markets reacted little to the rate cuts, which had been widely expected. They did get a little bit of a jolt from Draghi's suggestion of negative rates. The euro took a sudden tumble of about 0.7 percent against the U.S. dollar on the news.
Still, this was just talk -- the ECB did nothing unexpected. And it only acted after Europe's economic situation got way, way out of its control. Before Thursday, the ECB had not cut its target interest rate since last July. The previous cut came in December of 2011. In contrast, the U.S. Federal Reserve has not only cut its own target interest rate to zero, but has embarked on a series of extraordinary rescue measures that involve buying up trillions of dollars in bonds.
The ECB's monetary policy has been "excessively tight," Michael Darda, chief economist at MKM Partners wrote recently, and as a result, the amount of money circulating in Europe has been shrinking over the past two years -- the exact opposite of what one would want to happen to an economy in crisis.
That has contributed to Europe's grinding recession, now in its sixth quarter, with a possible ending still a distant hope. As the ECB met on Thursday, data provider Markit said its measure of eurozone factory output fell to a four-month low in April, with weakness spreading to the core eurozone country of Germany. The OECD slashed its outlook for Italian GDP this year.
European prices have gained just 1.2 percent in the past year, well below the ECB's 2 percent rate target. And eurozone unemployment has soared to a record 12.1 percent.
A large part of the blame for Europe's misery goes to the austerity fanatics who have pushed peripheral European countries to undergo self-destructive budget cuts in exchange for bailout money. But unlike the Fed, which has pushed back against fiscal insanity in Congress and the White House, the ECB has barely lifted a finger to help.
The Fed has caught a lot of grief for its easy-money policy. Europe is a perfect example of what the United States would be suffering right now if the Fed had listened to the critics.
BEFORE YOU GO