GUANTANAMO BAY NAVAL BASE, Cuba -- For weeks, said Army Col. John V. Bogdan, the man in charge of Guantanamo's detention facilities, he had tried to bring the crisis to a peaceful resolution. Since early February, a little more than six months after he took over command here, detainees had been protesting their treatment. Those in the communal Camp Six had covered video cameras with empty cereal boxes and other items, preventing U.S. officials from monitoring their movements.
More than 100 detainees were participating in a hunger strike, the detainees' lawyers had been telling the press and military officials. The military, however, downplayed the severity of the protest, placing the number of hunger strikers, initially, at just a half-dozen. One spokesman told CBS News in mid-March that the idea of a mass hunger strike at the prison was an "utter fabrication," and said prisoners were "in fact eating handfuls of trail mix, nuts, and other food." Guards pointed to scraps of pita bread and peanut butter in trash bags as evidence that the hunger strike wasn't real.
"We had no urgent need to get in there," Bogdan told reporters in April. "We had no evidence of any threat or harm or risk to the detainees. It was a little bit of a waiting game."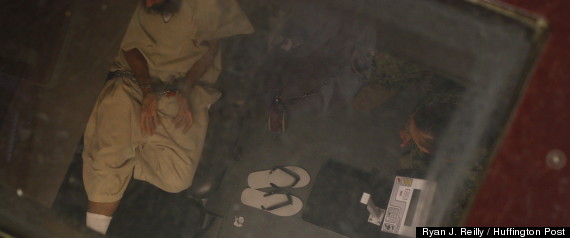 A detainee shown in Camp Six's medical clinic in April.
As the protest dragged on, however, U.S. officials feared they were losing control. The head of Camp Six acknowledged in late March that the pantries inside the communal blocks were getting low on food, which was "beginning to be a problem." Medical personnel gradually raised the official number of recognized hunger strikers -- up to 43 by mid-April.
Negotiations had gotten nowhere. The detainees wanted changes to the way the guards handled their copies of the Quran, but Bogdan would not consider their demands until the cameras were uncovered. "I don't reinforce bad behavior," he said. "The deal was uncover the cameras, comply with rules, follow the rules, and then we would address anything that might be legitimate."
Bogdan decided he had had enough.
At 5:10 a.m. on April 13, a contingent of guards in riot gear stormed Camp Six and forced the detainees into their individual cells. The guards had trained for the mission for weeks. They fired rubber pellets at the detainees. Two guards wearing helmets were knocked in the head -- one with a squeegee handle, the other with a heavy metal bar from exercise equipment -- but resistance from the detainees, who were spread out in several of Camp Six's cellblocks, wasn't widespread. The raid was over in a matter of minutes, leaving five detainees injured.
"We were trying to be patient and work with them and give them the opportunity to comply," Bogdan told reporters from The Huffington Post and three other news organizations shortly after the raid. "We hit the point where I thought we were accepting too much risk, and I felt it was time to take action."
The raid gave U.S. officials control of the facility again. But they soon discovered that, out of sight behind the disabled camera lenses, the detainees' lawyers had been right -- the situation was far worse than they had acknowledged. The military's medical personnel now say that 100 detainees have been participating in the hunger strike since before the raid. In one cell, officials found a detainee near death from hunger and thirst.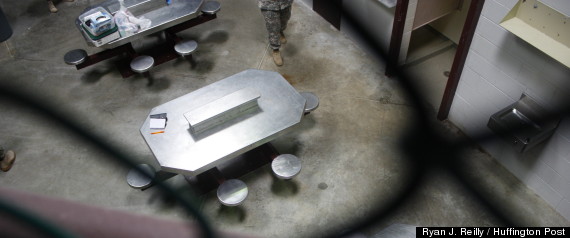 An empty Camp Six cell block that was previously occupied by detainees living in a communal setting.
Twenty-three detainees are currently being force-fed. At least twice a day, guards in riot gear tie each detainee to a chair or bed, and medical personnel force a tube up his nose and down his throat, and pump a can of Ensure or other dietary supplement into his stomach. There are so many detainees being force-fed that Guantanamo's medical personnel are working around the clock to keep up with the demand, and approximately 40 additional medical personnel just arrived in Guantanamo to help deal with the growing crisis.
"There will be more than one death," predicted the military's Muslim adviser, who would identify himself only by his first name, Zak. The night after the raid, a detainee in Camp Six tried to commit suicide, choking himself with his own shirt. The night before, a Camp Five detainee tried to do the same.
"I can't find the words to describe the suffering I am going through," Mohammed al-Zarnouqi, a citizen of Yemen who said he had been on hunger strike since Jan. 19, wrote in a March 25 letter to his legal team.
"You can only imagine how a hunger striker with his weak body is treated in a harsh way," he wrote. He said that when he was taken to the medical clinic in March, guards threw him to the concrete floor, causing him to hit his head. "Six to seven soldiers press my back, bend my legs in the knee area and tie my hands with shackles," he wrote.
"Really, now it is just pain everywhere. I don't want to die in Guantánamo," Younous Chekkouri, a detainee from Morocco, told his lawyer in early April. He said he had lost 30 pounds.
According to the detainees, the hunger strike began as a protest against the way military personnel were handling prisoner Qurans. The military disputes the allegations. Regardless of why the hunger strike started, however, there's general consensus about why it continues.
"The problem is the indefinite detention," said Carlos Warner, a federal public defender representing several Guantanamo detainees.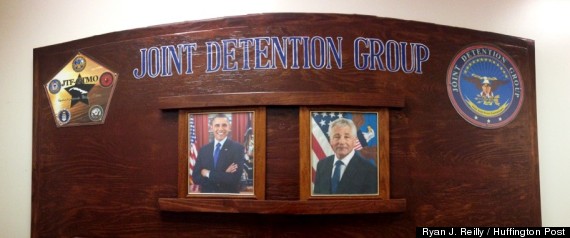 Photos of President Barack Obama and Secretary of Defense Chuck Hagel on display at the headquarters of Guantanamo's Joint Detention Group.
Eleven years after the first prisoners arrived at Guantanamo, 166 remain, with no end in sight. More than half -- 86 -- have been cleared for transfer to other countries, but the process has been snarled by a mix of congressionally imposed restrictions and executive branch inaction. Even if President Barack Obama did have the power to close Guantanamo unilaterally, doing so would not necessarily mean that the detainees would be set free in other countries. William Lietzau, the top detainee policy official at the Pentagon, told The New York Times recently that he doesn't believe the number of detainees being held without charges would "change radically," even if legislative restrictions were removed.
But the lack of progress, especially given Obama's promise to close Guantanamo, has worn on the detainees. They were reportedly particularly upset after Obama failed to mention Guantanamo during his State of the Union address in February. The mass hunger strike began a few weeks later -- the last resort of desperate men seeking attention.
"I just hope that because of the pain we are suffering, the eyes of the world will once again look to Guantánamo before it is too late," one prisoner, Samir Naji al Hasan Moqbel, wrote in The New York Times last month, detailing his experience of being force-fed. After 11 years, he continues to be held at Guantanamo because the Obama administration refuses to send detainees home to Yemen while the country remains a hotbed of terrorism.
Accounts like his did turn public attention toward Guantanamo, at least briefly. A day after al Hasan Moqbel's op-ed was published, the Boston Marathon bombings shocked the nation and pushed Guantanamo off the front pages -- the same week the military granted reporters access to the prison facilities for the first time in weeks.
Now, however, with the crisis in Boston eased, attention is slowly shifting back to the detainees. Obama renewed his commitment to close Guantanamo during a press conference at the White House on Tuesday.
"I don't want these individuals to die," Obama said of the hunger strikers. "Obviously the Pentagon is trying to manage the situation as best as they can. But I think all of us should reflect on why exactly are we doing this? Why are we doing this?"
Guantanamo, Obama said, is a "lingering problem that is not going to get better, it's going to get worse. It's going to fester."
Such unease about its continued existence is at odds with the development of Guantanamo from a temporary detention facility into a more robust prison camp. The military has spent millions of dollars in recent years on a state-of-the-art courthouse, housing for lawyers, guards and other personnel, and improved facilities for the detainees. A new chapel is under construction, and the sports center is being refurbished. The Pentagon is requesting nearly $200 million for upgrades at Guantanamo, including replacing the secretive Camp Seven that houses high-value detainees.
As the military tells it, prisoners in Guantanamo's Camp Six had it about as good as prisoners being held indefinitely without charges possibly could. Their communal pods had big-screen televisions, microwaves, refrigerators, and 22-hour access to a large outdoor recreation yard. That soccer field, about half the size of an American football field, was accessible to detainees via a secured walkway that minimized contact, and conflict, with guards.
Detainees could move freely within their communal blocks for most of the day and could eat, pray, and even play video games together. FIFA soccer on PlayStation 3 was a hit, while Angry Birds "was kind of popular at the beginning, but it just stopped," a library tech named Milton, who agreed to be identified only by his first name, told reporters. DVDs of "Everybody Loves Raymond" were also a hit, and Milton was making his way through "Friends" to decide whether it was appropriate, but was concerned that Jennifer Aniston may be too scantily clad.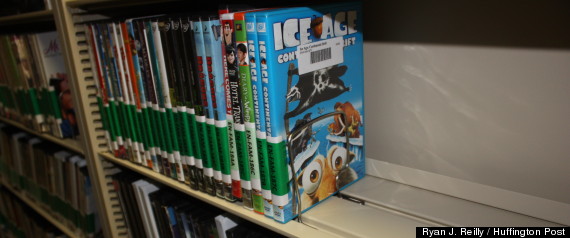 DVDs on the shelves of Guantanamo's detainee library.
"We were ready to give them their own DVD player just before they started covering cameras," said Zak, the Muslim adviser. "We bought that shipment six months ago, nine months ago. We worked on it to get the money."
Bogdan, who took charge of Guantanamo's detention facilities in June 2012, decided to crack down on some of the freedoms and comforts of the communal cellblock, however. Detainees have told their lawyers that Bogdan directed the guards to confiscate personal items, crank up the air conditioning to make the cells uncomfortably cold, and search Qurans for contraband.
"I will bring this camp to how it was in the old times. I've got kids at home and I know how to deal with kids," Bogdan reportedly said, according to a detainee.
Bogdan has defended his actions, saying that guards had allowed some of the rules to slip in previous years and that he was simply enforcing official procedures.
"We have a constantly rotating guard force. So when you have a guard force that's been in for a while and then a new one comes on, the newer guard force is going to be a little more, for the lack of a better word, by the book," Bogdan said. Prison officials found an iPod in Camp Six after the raid that they believe a guard snuck in, and other electronic contraband has been found in the past.
Capt. John, an Army reservist who had worked in Louisiana prisons and detention facilities when not on active duty and declined to provide his last name, said he was shocked by the conditions when he took charge of Camp Six in January.
"I've never been in a civilian prison that looked anything like the communal here," John said, standing inside a communal block he said had been packed with books, cases of bottled water, trash and "all sorts of items" the detainees had hoarded until the raid. "In a civilian facility, you'll have some level of control. And if they live in communal, it really is compliant, they lock down when you tell them to lock down. They move when you tell them to move. But not necessarily here."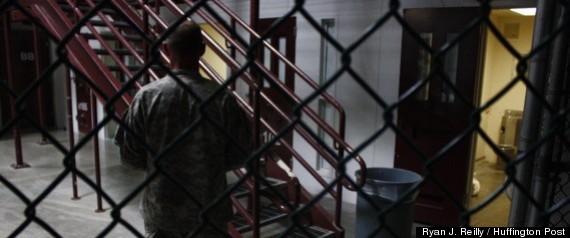 The officer in charge of Camp Six stands inside a sparsely populated block.
Detainees would use sticks to poke at guards observing them from a "sally port," the cage that links each block to the rest of the prison, he said.
While the detainees have been trying to protest being held indefinitely without charges, the military is trying to keep Guantanamo guards focused on the idea that the detainees are terrorists who need to be locked up.
Some of the military personnel now at Guantanamo are as young as 18, and were just children when the Sept. 11 attacks took place. To bring them up to speed, and to give those deployed to Guantanamo a better sense of why they're there, FBI counterterrorism officials hold periodic unclassified briefings open to members of the military. A recent April briefing, which helped explain the role allegedly played by five detainees on trial in connection with the Sept. 11 attacks, featured recordings of 911 calls from victims in the World Trade Center, which attendees said left many participants in tears.
Additionally, guards at Guantanamo -- like all other members of the military -- are barred from doing their own research on Wikileaks, and in theory any news websites that present information from Wikileaks. Such research may tell them more about the detainees. The consequence of accepting the government's side of the story and excluding everything else is a strict us vs. them mentality.
"Many of the guards are not informed about the details of the situation at Guantanamo or the legal process of it, that there are some people who are cleared for release. They're kept away from all that," said Omar Deghayes, a former Guantanamo detainee who was released in 2007 after a five-year incarceration. "They tell them these are the worst of the worst. All they know is 'Oh, these people are connected to Sept. 11.' That's the mindframe."
"We have the keys at the end of the day, they are on the other side of the cell," states a sign hanging in the Camp Six observation room, where guards monitor detainees via cameras.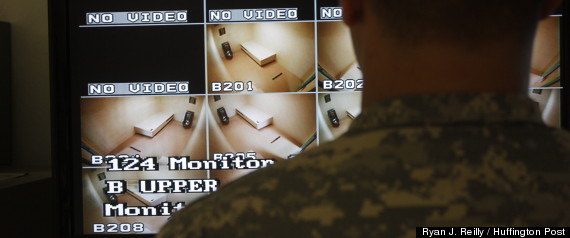 A Guantanamo guard monitors prison cells in Camp Six.
Zak, the Muslim adviser, said the hunger strike began when a small group of detainees he described as troublemakers convinced the others to join the protest, because living relatively comfortably "is not going to remind the world" about Guantanamo Bay.
"We never stopped improving the living conditions. We got to the point where detainees are living comfortably, nobody is shooting at us, we eat meat, we eat chicken, and they were telling their families that," Zak said.
"The 10 percent of the detainees got up and said, 'Come on, guys, you've been asleep since 2008.' Everybody was bragging about how good life was and everything, people in the outside world say, 'How can I talk about your case, how can I move your case if you're just living comfortably?'" Zak said.
The hunger strike hasn't halted the production of those meals the detainees were allegedly writing home about. In an aging kitchen without air conditioning overlooking the Caribbean Sea, four military contractors in hairnets continue to spoon meals -- spiced beef, tomatoes and rice on the day reporters visited, one of six meals on the rotating menu -- into white styrofoam containers. Each prisoner's inmate number, along with any dietary restrictions, is written on each container in black marker.
Before the raid, staffers prepared much of the food buffet-style. But now that the detainees have been restricted to their cells, it's served almost entirely as individual portions, which also helps the medical personnel monitor the status of the hunger strikers.
Most of the meals are stacked into insulated containers and driven a quarter-mile east to Camp Five and Camp Six, where, hours later, they'll be tossed into the garbage, uneaten.
"Nothing changed at our end," said Sam Scott, who's been working food prep since 2003, of the daily meal routine. "It bothers me," she said of the ongoing hunger strike, "but we cannot do nothing about it."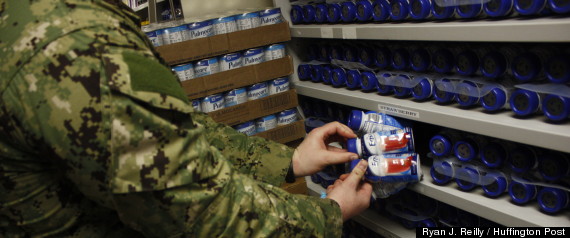 A medical staffer shows cans of Ensure used to force-feed detainees.
A different kind of meal is now prepared for the hunger-striking detainees who are in the worst shape. At least twice a day, military personnel pump a can of liquid nutritional supplement -- Ensure, Pulmocare, Glucerna or TwoCal HN -- into the stomachs of those being force-fed. Camp Six's medical personnel used to give the detainees their choice of Ensure -- butter pecan, vanilla, chocolate or strawberry. Now, those being force-fed are not allowed to select the flavor they'll have hosed into their stomachs.
"Detainees have the right to peacefully protest," said Guantanamo spokesman Lt. Col. Samuel House. But, he said, "We will not allow a detainee to starve themselves to death, and we will continue to treat each person humanely."
Fayiz al Kandari, one of the detainees being force-feed, complained through his lawyer, Carlos Warner, that medical officials were using a feeding tube that was too large, and that he was not able to breathe. He said that his request for the doctors to use a smaller tube was denied.
Roughly two-thirds of those being force-fed "accept their nutritional supplement voluntarily," according to House, meaning the emaciated men don't actively fight the inevitable. Even those detainees who cooperate are strapped down into a chair with built-in restraints for the arms, legs and torso. Those who refuse to go to the medical facility are strapped to their beds and force-fed inside their cells.
"It's not a violent resistance," one medical staffer in Camp Six said the day reporters visited. Nevertheless, medical personnel are accompanied at all times by guards in riot gear.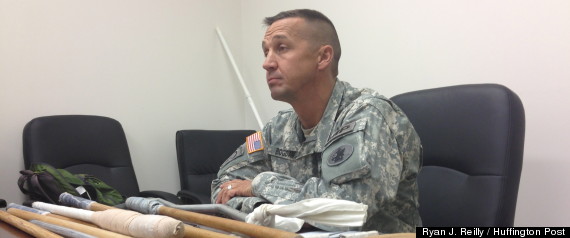 John Bodgan speaks with reporters in April.
Deghayes, the former Guantanamo detainee, who was on a hunger strike for a few weeks during his time at the prison, described the debilitating effects of slow starvation.
"It's more difficult than if you were not a prisoner, because you're in an isolated cell and all you have is nothing but walls," Deghayes told The Huffington Post. "You become very hungry, you become very sick. ... You lose your senses, you can't think properly, you have pain in your head and everywhere of course, you think about food. It's difficult. It comes to a point where you can't stand anymore."
While there are potential health risks to force-feeding -- collapsed lungs, infections, pneumonia -- the military in theory may continue the practice for years. One detainee at Guantanamo has been force-fed daily since 2005.
But force-feeding -- while in line with the practices of civilian penitentiaries controlled by the federal Bureau of Prisons -- puts the U.S. government at odds with much of the medical and international community. Force-feeding, the American Medical Association wrote in a letter to Secretary of Defense Chuck Hagel in late April, "violates core ethical values of the medical profession" because every "competent patient has the right to refuse medical intervention, including life-sustaining interventions." The International Committee of the Red Cross also disagrees with force-feedings.
Neither side seems to have an easy solution for ending the hunger strike. Military officials at Guantanamo nearly universally dismiss the complaints of detainees. "They'll protest a variety of things, from what time the rec yard needs to be sanitized ... to how many calories was in the yogurt they got that day," said Capt. John, the officer in charge of Camp Six.
"They were asking to be released from Gitmo," said Bogdan. "I can't do that."
Bogdan said he still wants to shift Camp Six back to communal living. It will be a slow process.
"Communal's not gone," Bogdan said. "It'll be a while before we're back in a communal environment again, because I see this as a vetting, screening process to determine exactly who we think can go into a communal environment, and follow the rules and be compliant. And that's not a short process."
But Carlos Warner warned that no amount of limited freedoms -- books, DVDs, video games and outdoor soccer -- would satisfy men whose true desire is a resolution of their indefinite detention.
"If you think keeping them in those conditions and proceeding in the way that you are is going to cause the strike to end, you're wrong," Warner said. "You're driving their resolve deeper."
This story appears in Issue 52 of our weekly iPad magazine, Huffington, in the iTunes App store, available Friday, June 7.
BEFORE YOU GO
PHOTO GALLERY
Inside Guantanamo's Prison Facility