Gwyneth Paltrow insists she does not have the recipe for the perfect marriage. In fact, she says her relationship with Chris Martin is just like any other when it comes to ups and downs.
"It's hard being married," Paltrow told Glamour U.K. for the magazine's June issue, according to the Telegraph. "You go through great times, you go through terrible times. We're the same as any couple. I asked my dad once, 'How did you and [mom] stay married for 33 years?' And he said, 'Well, we never wanted to get divorced at the same time.' And I think that's what happens. When two people throw in the towel at the same time, then you break up, but if one person's saying, 'Come on, we can do this,' you carry on."
The "Iron Man" star, who married the Coldplay frontman in 2003, said that she keeps a cool head when it comes to her husband's whereabouts even though he is a world-famous rock star.
"I'm a very grounded, homey person and Chris is a very mad scientist, genius songwriter," she said. "So I never say 'Where are you? You should be home by now.' I never place demands on him because I think he's a really talented man and he's putting something good into the world."
But when she does get angry at her hubby, Paltrow could always put her own risque relationship advice to use. Chelsea Handler recently revealed that the actress has advised friends to replace fighting with, ahem, pleasuring.
As for more PG-rated advice, Paltrow thinks it is okay for women to play the relatively traditional role of wife and mother, she told Harper's Bazaar for the magazine's May issue. The "World's Most Beautiful" honoree is willing to stay home with her kids -- Apple, 8; and Moses, 7 -- and let her husband's career take precedence over hers.
In fact, she recently shared this thought with a fellow celeb friend embarking on a new relationship.
"She is an actress and in a new relationship with someone else with a big career, and I said this may not be feminist, but you have to compromise," she explained to the fashion mag. "It's been all about you and you're a big deal. And if you want what you're saying you want—a family—you have to be a wife, and that is part of the equation. Gloria Steinem may string me up by my toes, but all I can do is my best, and I can do only what works for me and my family."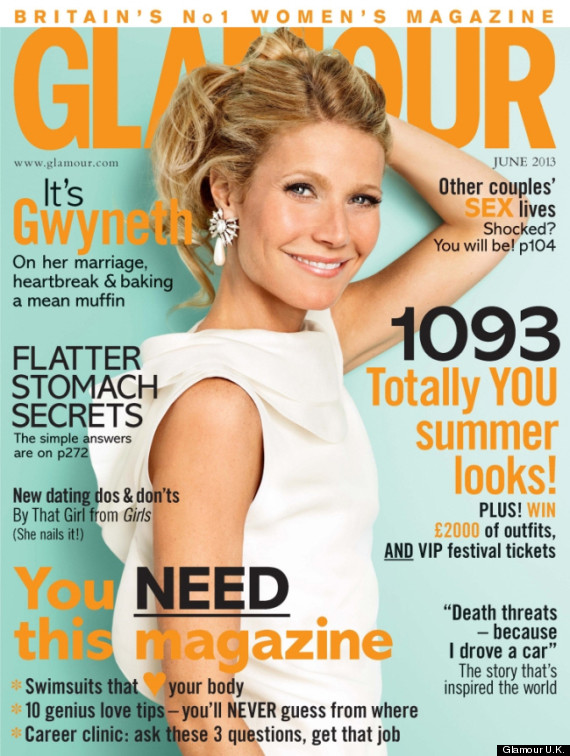 BEFORE YOU GO
PHOTO GALLERY
Gwyneth Paltrow's Style Evolution