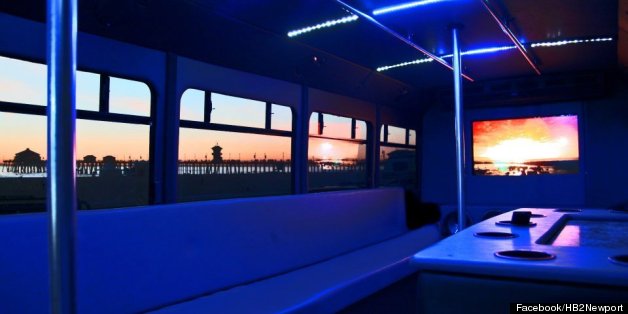 They call it the idea that everyone had but nobody executed.
Andrew Angulo and Chasom Brown launched HB2Newport with a handful of other investors about two months ago.
Their party shuttle, which takes locals and tourists from downtown Huntington Beach to the Newport Beach peninsula and back again, has been gaining popularity.
The founders, both from Huntington Beach, say the No. 1 reaction they get to their new business is, "How has this not existed before?"
"If I had a dollar for every time someone said, 'That was my idea,'" Brown said, laughing. "We didn't invent the shuttle and we didn't invent the party bus, but I think we're the first to tie the two together."
HB2Newport offers $3 rides between the two nightlife-rich beach communities on Friday and Saturday nights.
On a recent Friday night, HB2Newport was seen, and heard, from a distance as it wound through downtown Huntington Beach.
The hollers of people having a good time were barely audible above the heavy bass and bouncy melody of the dance music.
Alcohol is not served on the bus, but the riders didn't seem to mind. They held giant glow sticks in their hands instead of drinks and drummed them on the vinyl seats to the beat of the music.
"This is a great, great, great idea," said passenger Kelley McDonnell, 23, of Newport Beach. "It's a godsend."
On average, the party bus sees about 200 customers a night, and that number grows by the week, the owners said.
Angulo, who also works as a bartender at the Costa Mesa Yard House, and Brown, a musician, said they target customers who live near downtown Huntington Beach and the Newport Beach peninsula but rarely venture outside their city for a night out.
"We already have regulars," Angulo said. "We have all types of people that come on."
But the bus is not for locals only. Tourists visiting the Orange County beach communities often jump at the chance to check out the neighboring nightlife, Angulo said.
Although the idea behind HB2Newport is fun and flashy, Brown and Angulo said they also want to deter drinking and driving -- a problem prevalent in both areas.
"People drive (on Pacific Coast Highway) when they shouldn't," Brown said. "It's so close, but it's really not that close ... it's too tempting for people."
Dozens of people took the party bus in a two-hour period Friday night. Inside, LED lights spun and flashed, giving the feel of a nightclub. It took only minutes before riders -- men and women -- used the vertical handrails as dance poles.
Several riders said they plan to frequent HB2Newport to experience both cities in a safe and budget-friendly way.
"It's always really expensive to get from Huntington Beach to Newport," said Arielle Severns, 22, of Huntington Beach. "It's really clean, it's fun and we like it a lot. We're out tonight for a friend's birthday and we're coming back tomorrow."
The idea to start the company came from Angulo's mother when she visited from Seattle in July.
Angulo showed her the Huntington Beach scene and then took her to Newport Beach to experience the restaurants.
He told his mom he wished he could make it out to Newport Beach more often.
"It's hard to break out of your bubble when everything is in walking distance and so close," he told her.
"Parking is bad, nobody wants to drive and taking a taxi can be $40 round-trip," he said of the journey from Huntington to Newport Beach.
His mom asked him if a shuttle was available to transport people back and forth.
With that, the seed was planted, and Angulo called Brown to share the idea. Brown suggested making the shuttle a party bus and they worked up a business plan.
By August, they had purchased two shuttle buses that had been used at John Wayne Airport.
Angulo's uncle, who works in the limousine and party bus business, converted the airport shuttles into destruction-proof party machines.
"We told him this thing needed to be built like a tank," Angulo said. "We wanted it to have a luxury look, but we wanted it to be bulletproof from the inside out."
HB2Newport launched in early March, and the founders already have plans to expand.
They said they hope to add a "Sunday Funday" route in the coming weeks and also hope to tack on Thursday nights this summer.
HOURS, LOCATIONS
Huntington Beach: HB2Newport picks up passengers on the hour starting at 6 p.m. The loading zone is just outside 25 Degrees at 412 Walnut Ave.
Newport Beach: Pickups are every hour starting at 6:30 p.m. The loading zone is just across the street from Cassidy's Bar and Grill, 2603 Newport Blvd. The bus runs until 2:30 a.m.
Other info: The cost is $3 one way and the bus holds 30 people. Large groups can make arrangements for a special pickup ahead of time. Visit partybushb.com for more information.
BEFORE YOU GO
PHOTO GALLERY
The Most Embarrassing Logos Ever