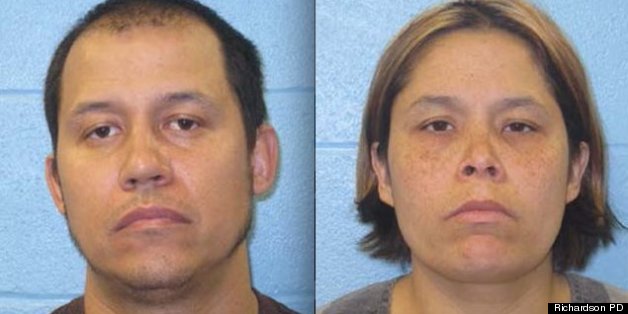 Police in Richardson, Tex. said a father beat his baby to death when the child wouldn't stop crying -- even though the man was deaf.
Hector Rene Cupich-Quinones, 35, and his wife, 37-year-old Maria Guadalupe Zuniga, have both been charged in the beating death of their 5-month old daughter, ABC News reported. Both parents are deaf and are unable to speak.
Police said Cupich-Quinones confessed, through the aid of an interpreter, that he killed the infant girl. He allegedly stated that Saturday night, he and his wife had been drinking and became frustrated when their infant daughter kept crying. Investigators said the man admitted to first shaking the baby to get her to be quiet, and when that didn't work, hitting her head on the counter.
"My understanding is [the parents] feel vibrations and some noise," police Sgt. Kevin Perlich said, according to Dallas News, "so they could tell the infant was crying."
Cupich-Quinones told investigators the baby fell head-first onto the floor after he allegedly slid her across the counter.
He stated Zuniga then put the girl to bed, but at 3 a.m. Sunday, they noticed the baby was having trouble breathing and called 911 at around 5:30 a.m. Investigators said Cupich-Quinones told them he and his wife got into an argument about who was responsible before they called authorities.
The baby was transported to a hospital and died at about 10 p.m. Authorities said she had massive trauma to the back of her head, as well as bruises on her chest, arms and back.
"We're talking a lot of blunt force trauma injuries," Perlich told WLS-TV.
Cupich-Quinones is charged with murder, while Zuniga is charged with injury to a child.
BEFORE YOU GO
PHOTO GALLERY
10 Major Crimes That Shocked America (SLIDESHOW)