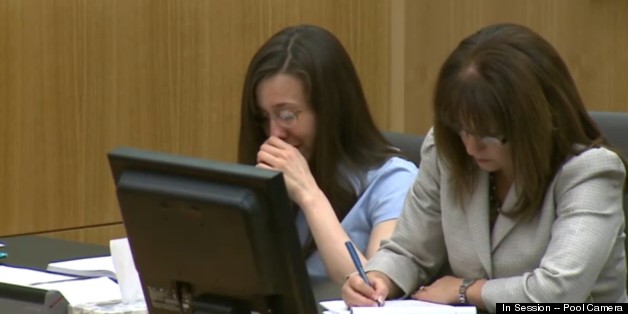 PHOENIX -- Jodi Arias committed "a very orchestrated killing," and her only defense has been to attack the credibility of her victim, the prosecutor in her four-month murder trial said during his closing argument on Thursday.
"She planned to come and kill Mr. Alexander ... that's what the evidence shows," prosecutor Juan Martinez told jurors of the 2008 slaying of Travis Alexander, 30, Arias' ex-boyfriend. "She premeditated the murder."
In a packed courtroom, Martinez used images of Alexander's mutilated body to show the gruesome nature of the slaying. He said Arias, 32, attacked Alexander with a knife as he showered in his Mesa home.
"As she's stabbing him, he is alive," Martinez said.
Alexander, according to the autopsy, was stabbed nearly 30 times.
"The more he bleeds, the quicker he dies," Martinez said.
The veteran prosecutor described in great detail how evidence at the crime scene suggested Alexander tried to get away from Arias, and stood at his sink in front of a mirror while she stabbed him in the back.
"He could see the defendant delivering the strikes to his back," Martinez said.
Martinez said many of the stab wounds could have been fatal, yet Arias cut Alexander's throat from ear to ear and shot him in the head.
"She's killed him three times over," Martinez said.
After the killing, the prosecutor said, Arias attempted to clean up the crime scene and remove any trace of her visit, including naked photos of her on a memory card in Alexander's camera.
"The knife wasn't found anywhere ... The gun, it was taken," Martinez said. "She was cleaning up because she did not want to get caught ... She walked out and on that hot summer [day], got into the car and [drove] away."
Arias wept off and on throughout the day -– something that did not go unnoticed by the prosecutor.
"She may cry now, but the jury instructions tell you sympathy is not to be considered in this particular case," Martinez said.
Arias' defense, the prosecutor said, is based entirely on lies and attacks on the credibility of the victim. He said the defense lawyers and their expert witnesses failed to deliver on promises during opening statements that Arias was a victim of domestic violence.
"Her defense really is based on lies," Martinez said. "She's a very sophisticated liar in that she adds all these extra details."
Martinez told jurors that Arias should be found guilty of premeditated first-degree murder.
"What the state is asking you to do is your duty and the judge has indicated that your duty is to follow the law as she's given it to you and apply it to the facts," Martinez said. "In asking that, the state is asking you to return a verdict of guilty -- a verdict of guilty as to first-degree murder. Not only as to premeditated murder, but also as to felony murder, for no other reason than it's your duty, and the facts and the law support it."
Martinez' closing argument came four months to the day after he gave his opening statement in the case.
Arias' lawyers begin their closing arguments on Friday. Following that, the prosecution has a chance for rebuttal. Jurors begin deliberating after the lawyers' arguments conclude.
The trial is scheduled to resume at noon EDT on Friday. Arias faces the death penalty if convicted.
THURSDAY'S LIVE BLOG:
05/02/2013 6:51 PM EDT
Recess
The judge has called the evening recess. The trial will continue tomorrow.
05/02/2013 6:51 PM EDT
Last Statement
Martinez said its the jury's duty to return a guilty verdict. With that he finished his closing argument.
05/02/2013 6:50 PM EDT
Mandatory Rules
Martinez said the jury instructions are not guidelines, they are mandatory rules.
05/02/2013 6:48 PM EDT
'She Has Committed Murder'
"She has committed murder in the first-degree," Martinez said.
05/02/2013 6:46 PM EDT
Felony Murder
Martinez is going over what constitutes felony murder.
05/02/2013 6:39 PM EDT
The Gun Ownership Does Not Matter
Martinez said even if Arias did not use her grandparents gun to kill Alexander she would still be guilty of first-degree murder because she would have stolen Alexander's gun after the killing, and a theft during a murder also qualifies as first-degree murder.
05/02/2013 6:37 PM EDT
'Posed To Strike'
Martinez said the photographs Arias took of Alexander prior to his death do not support a heat of passion killing. He said she was "posed to strike."
05/02/2013 6:34 PM EDT
On Juan:
Felony murder no lesser included so Juan is saying go for it and use it no muss no fuss M1 #Jodiarias

— Jeffrey Evan Gold (@jeffgoldesq) May 2, 2013
05/02/2013 6:33 PM EDT
'She Knew That She Was Going To Kill Him'
"Those elements are satisfied," Martinez said of premeditated murder in this case.
05/02/2013 6:32 PM EDT
On Premeditated Murder
Martinez said premeditated murder has been proven in this case.
BEFORE YOU GO
PHOTO GALLERY
Jodi Arias Timeline