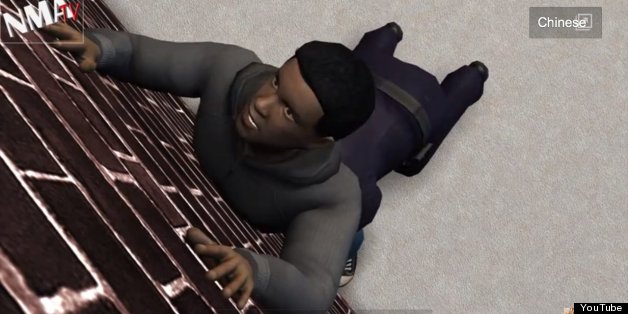 Well, this isn't your typical NYPD "stop and frisk."
From the twisted, efficient and often hilarious minds that brought you animated versions of the Kim Kardashian divorce, the Manti Te'o girlfriend scandal and many, many other news stories comes an interpretation of New York City Police Department procedure that is as critcial as it is offensive.
Taiwan-based studio Next Media Animation (NMA) created the two-minute video, which showed up on YouTube Wednesday.
The clip parodies an NYPD training video played in court recently by city attorneys attempting to defend the NYPD's use of a stop-and-frisk program. The controversial policy is being challenged in a class-action lawsuit. (You can watch the NYPD's official video here.)
NMA's version of the video is decidedly unflattering, with NYPD officers and recruits depicted as fat, lazy and incompetent white males who frisk and taser a judge, shoot hooded black males with impunity, punch a pregnant woman until she gives birth and beat a Muslim woman, all the while ignoring men walking around with automatic-looking weapons.
"When frisking a suspect, do your job thoroughly," the narrator intones, quoting the actual NYPD video. "Don't be shy about going into the crotch area." This instruction is followed by an animated officer literally crawling up the rear of a man being frisked.
Over the past 10 years, the NYPD has conducted around 5 million street stops, according to the Associated Press. Lawyers suing the police department claim too many of these stops involve innocent minority men, while the city claims it is an effective crime-fighting strategy.
WARNING: Some content in this video may be NSFW.
BEFORE YOU GO
PHOTO GALLERY
Stop And Frisk Goes On Trial In NYC