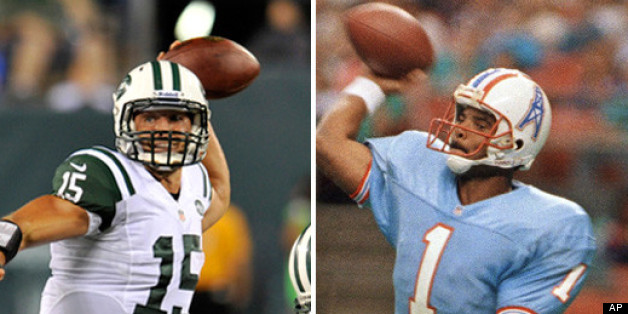 Tim Tebow shouldn't look north of the border for a job, according to Hall of Fame quarterback Warren Moon, who starred in the NFL and CFL.
Moon joined KILT-AM in Houston on Wednesday and weighed in Tebow's chances in Canada.
"You have to be able to throw the ball up there, if anything. They throw the ball a lot. It's only three downs, so the passing game is much more important up there, and there's a lot more field to cover. If you can't throw the football, it doesn't matter where you play quarterback," he said. "You got to be able to throw it. I think that's his biggest problem, just being able to complete passes, be an accurate passer. I think he's a really good athlete playing the position, but I don't think that's enough sometimes."
Click HERE to listen to the full segment.
The Jets cut Tebow days after selecting quarterback Geno Smith out of West Virginia in the second round of the 2013 NFL Draft. Shortly after his release, the CFL's Montreal Alouettes said they would welcome Tebow if he's willing to compete for the backup quarterback job. The Alouettes hold exclusive CFL negotiating rights with Tebow.
Moon, who played in the CFL from 1978 to 1983 before becoming an NFL star with the Houston Oilers, went on to say that Tebow might want to consider playing another position "if he wants to stay in the NFL."
According to Bart Hubbuch of the New York Post, a "few teams" were interested in trading for Tebow only if he was willing to change positions, but Tebow refused.

BEFORE YOU GO
PHOTO GALLERY
Best 2013 Sports Photos