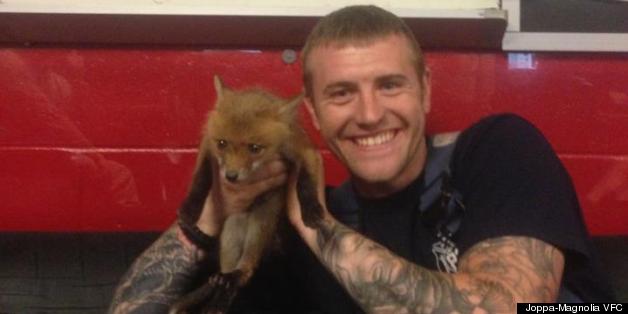 A baby fox rescued Tuesday night from a storm drain in Edgewood by a well-meaning group of Harford County firefighters was later euthanized so it could be tested for rabies -- though the disease was not ultimately found.
The decision -- which was met with disappointment from the volunteer firefighters -- was made out of fear that handling the abandoned pup during and after the rescue may have exposed the men to the deadly viral disease, even though none of them were bitten or scratched, the Harford County Health Department said.
The animal was picked up from the Phoenix Wildlife Center by health officials on Wednesday afternoon and euthanized, the Health Department confirmed Friday. It had spent Tuesday night into Wednesday morning at the Joppa-Magnolia Volunteer Fire Station, after firefighters could not locate animal control officers.
Firefighters had fed the animal, made a bed for it in a large plastic container, and held it in their laps and hands.
The Health Department said that while it "appreciates the well-intentioned and successful animal-rescue efforts" of the fire crew, rabies exposure "remains a critical consideration" whenever humans have contact with foxes, raccoons, skunks or bats.
"The greater concern in incidents such as this is less about the animal than for public health and safety," the department said in a statement.
The department also said that when they picked up the animal, a wildlife rehabilitator at Phoenix had told them the pup was also suffering from hydrocephaly, or "water on the brain," which may have been the reason the animal was abandoned by its mother.
The fox was tested by the state Department of Health and Mental Hygiene. The results came back negative for rabies Friday afternoon, meaning the firefighters will not have to undergo post-exposure prophylaxis treatment, said Bill Wiseman, a county Health Department spokesman.
Capt. William Vanarsdale, a fire station supervisor, said the team that participated in the fox's rescue had no idea their interactions with it would prompt its euthanization.
"We're just a little upset and disappointed, because we were doing the right thing and then they put the fox down," he said.
That the fox didn't have rabies added to the regret, he said.
The Health Department said it works closely with the volunteer fire station on rabies vaccinations and said it wished to "acknowledge their great dedication to the well-being of the community."
krector@baltsun.com
twitter.com/rectorsun ___
BEFORE YOU GO
PHOTO GALLERY
Baby Fox Rescued By Firefighters