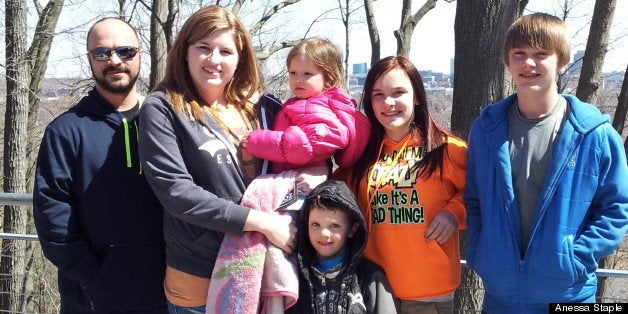 As part of our Blended Family Friday series, each week we're spotlighting a different stepfamily to learn how they successfully blended their two families together. Our hope is that by telling their stories, we'll bring you closer to blended family bliss in your own life!
Today, we'd like you to meet Anessa and Keith's family. In her initial email to us, Anessa explained that getting to the peaceful place she and her family are at now took "tears, disagreements, frustration" but also "laughter, joy, and surprises." Today, she says she knows that they'll be a family forever.
Hey, Anessa. Introduce us to your family!
My husband, Keith, and I have been together for almost four years -- we've been married for two. We just celebrated our second anniversary in February. We have four kids together: Kyle, 13 (my stepson); Cassidy, 12 (my stepdaughter); Thomas, 5 (my son); and Leila, 2 (my daughter with Keith).
What would you say is the best thing about being part of a blended family?
I think the best part is never having a dull moment. Our family is big and diverse so there is always something going on, from T-ball and cheerleading, to play groups and track. There is always something going on. I think being part of a blended family has also made all of us stronger, more patient, and more loving. Our bond to one another is extremely close and I couldn't be more thankful!
What are some of the biggest challenges of blended family life?
I think our biggest challenge is finding time for all of the children, and making them all feel wanted by us both. I think sometimes it's hard for the three oldest to not have both parents around all the time while our littlest one does. She doesn't have to leave to go anywhere else.
It can also be hard to find adequate time with the three older, especially because not only do they visit their other parents but they also have school. Finding alone time with each child is very hard but we do the best we can.
There's a significant age gap between our children, so it's challenging trying to get them to understand that there are different rules/chores based on age, and not based on which child belongs to whom. Because of the age gap, it's also sometimes hard to find the one place, restaurant, movie, vacation, etc., that will make them all happy, but again I think my husband and I do the best we can.
Finally, it's hard not to get your feelings hurt and it is also hard to be the bigger person when one of the "other" parents tries to get under our skin or worse -- disappoints one of our children.
What makes you proudest of your family?
I am so proud of my family because we have been through a lot of tough issues but instead of it breaking us we have become stronger. I am proud when I see my "big kids" loving and helping the younger ones. I am also proud when my kids come home from school with good grades and are actually happy to ask me to help them with their homework. With all of that being said, I am at my proudest when one member of my family sacrifices their wants for another member of the family or for the family as a whole, because that is what we are -- one family. We are not complete unless we are all together!
What advice do you have for other blended families who feel like a peaceful family dynamic is out of reach?
The advice I would give to other blended families is to just hang in there. Do not give up! Everyday is a new day and it is what you make it. Make a promise to yourself to take time for yourself and for your significant other. You and your spouse have to stand together, though I know it may not always be an easy task. It takes work. There will be struggles, disappointments, hurt, and anger and it is absolutely okay to have such feelings. Do not beat yourself up for making a mistake -- after all, we are human. Just love one another and be there for the kids especially when they push away -- that is when they need and want you the most.
My final word of advice is not to compare yourself or your family to others. Each family is unique. Each member of the family comes with their own background and their own perspectives. Find out what works best for your family, then do it. Then take a breath. You are doing a great job!
Click through the slideshow the see photos of Anessa and Keith's family.
If you'd like your own family to be featured on a Blended Family Friday, please email us at divorce@huffingtonpost.com. We're looking forward to hearing your story!
PHOTO GALLERY
Meet Anessa And Keith's Family
BEFORE YOU GO