This post was originally published on Ecofabulous.
Green happenings are making waves at Environment's expansive 5,500 square foot LA showroom of eco-luxury furniture. At last year's "Opportunity Green VIP Mixer" executives from XPrize, Dwell, Disney, Global Green USA and Gensler met to mingle and view the hot, new MINI-E electric cars. Another co-hosted success was with "Greening Hollywood," a lavishly divine dinner catered by MILK's chef Bret Thompson for 20 people from industries such as landscape design, film studios (Universal), the Makeup Artist Guild, Sebastian Copeland and Zahava Stroud of Hollywood Goes Green.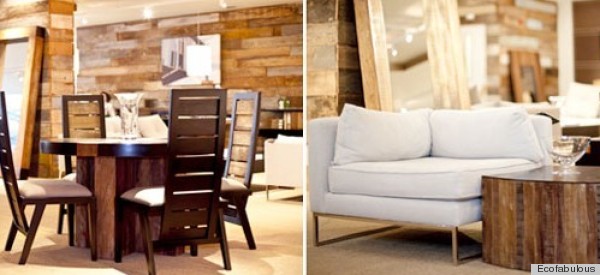 Why at Environment? The organic, casually sophisticated and modern space is a dream! Vintage vinyl LP's on a 70′s McIntosh system and an incredible art collection only begins to set the tone for the unique furniture collections sought out by celebs like Leonardo DiCaprio, Julia Roberts and Adrian Grenier. Using only reclaimed exotic hardwoods, naturally distressed heavy canvas and vintage military textiles, these functional pieces of art are truly one-of-a-kind, with wood that has been weathered by natural elements.
Since 2002 Environment has led the industry with deeper values and sustainable business practices. Committed to using materials and processes with a low environmental impact, the company works together with organizations like the Tropical Rainforest Trust (TFT) to eliminate illegal and controversial tropical wood from supply chains and replace it with TFT and FSC-certified forests.
In short, the company produces sexy, luxurious furniture you can feel good about. The beautiful showroom (there's even one in Dublin now!) is one environment we're always happy to visit.