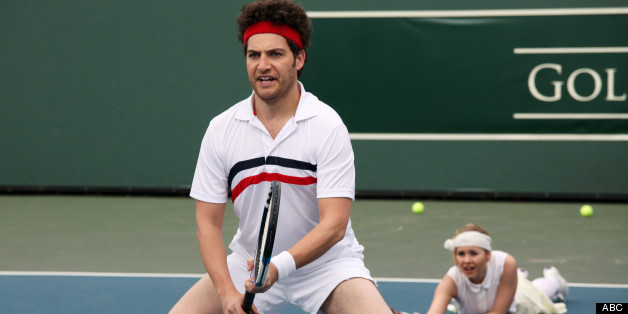 With the "Happy Endings" finale airing tonight (a double-bill starting at 8 p.m. ET) many fans are wondering whether ABC will renew the cult comedy for a fourth season, or whether another network might save it from cancellation.
While today is a perfect opportunity to look back at all the reasons why we love "Happy Endings" in case it goes away, executive producer Jonathan Groff is still optimistic about the show's future.
In a recent interview with TVGuide.com, Groff admitted that they approached the Season 3 finale like any other season ender: "Honestly, we didn't think too much about, 'Oh, this could be it.' If it is it for the show, which would be sad, I think it would leave people with a nice feeling of, 'OK, I get where this could go.' But we really felt like we'll land somewhere and come back," he said. "People at ABC really like the show, all the way up to the top. They've been so supportive in so many ways that we kind of feel like maybe at the end of the day, they'll say, 'This is a good show. We just need to figure out how to put it in the right place.'"
Asked about the rumors that USA could be interested in picking up the show if ABC declines, Groff admitted, "It's nice to know that people might want us, but I don't really know anything. No one tells us anything. ... If ABC picks it up, it's because it's a good show. They have good comedies and we're one of them. They want to try us again and handle us differently. I'd love to be anywhere, but I'd love to stay on ABC. We'll see what happens."
Though ABC courted controversy with its "Save 'Happy Endings'" promotional campaign after numerous timeslot changes, Groff still thinks that the network believes in the show. "You know, it's easy to make light of it because the corporate entity that has the power to save the show is asking viewers to save it. I think it was their way of getting fans excited. It also got attention. Rarely have I seen a promo get picked up in news outlets," he told TV Guide. "And honestly, they could've canceled us. The move to Fridays to keep us around was to keep us on the schedule. ABC has been so, so good to us. Other networks would've canceled us already and I think they didn't because they know it's a good show and this cast is insanely talented."
As for whether tonight's finale will satisfy the show's loyal viewers, Groff told TV Guide, "Obviously, we want to go on, but if this is it, I don't think any 'Happy Endings' fan would be disappointed."
For more on the "Happy Endings" finale, click over to TVGuide.com.
Tune in to the "Happy Endings" finale double-bill, Friday, May 3 from 8 p.m. ET on ABC, and watch an exclusive clip from the finale, featuring Megan Mullally, below.
Do you think "Happy Endings" will be renewed? Sound off in the comments!
PHOTO GALLERY
'Happy Endings' Season 3
BEFORE YOU GO