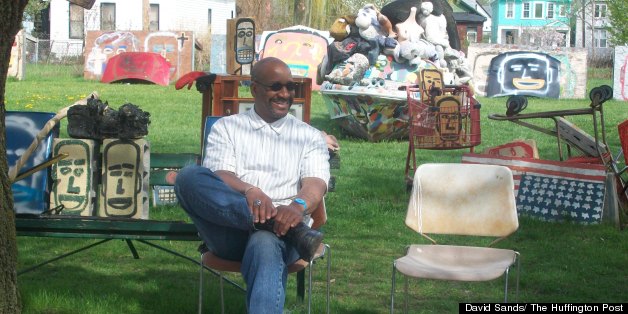 Puffs of smoke or ash still occasionally rose from a building Friday morning at a world-famous Detroit art installation as the artist sat across the street, contemplating the wreckage in front of him. Earlier, the decorated Heidelberg Project house was set on fire, possibly intentionally. But Tyree Guyton kept a positive outlook as he sat on a sunny bench welcoming well-wishers.
The building, known as the "OJ"or "Obstruction of Justice" house was a place where the project's originator, Guyton, kept work and supplies. It's part a larger series of decorated homes and transformed objects that help give the east side Detroit neighborhood its identity. Authorities suspect that an arsonist was responsible for the blaze.
"I can look at this and let this weigh me down. I choose not to, and it has a lot to do with my state of consciousness, where I'm at in my life," he told The Huffington Post. Guyton recently returned from a year in Switzerland, spent studying Plato, Socrates and other thinkers.
A red toy fire engine sat amongst the charred debris. It's a hopeful sign that the artist views the destroyed structure as a work in progress. When asked about the details of the disaster, Guyton said the fire department informed him it was deliberately set, but he didn't dwell on the details.
"To be honest, I'm excited," he said. "All I can tell you is I'm sitting listening to it and it's going to be something great."
Not far from the bench, Joe DiMasso, 29, of Toledo, Ohio explored another Heidelberg Project building with his wife. The two stopped by to the installation while on other business in town and were unaware that a fire had been set.
"That's absolutely horrible. Why would anyone do that? This is amazing," he said.
Otila Bell, who lives next door, said she witnessed the blaze.
"I ain't never seen a fire like that, but the fire department was on point," she said. "I sat on my porch. I wasn't concerned it was coming this way. They took care of it."
At times, some neighbors have complained that the project, which re-purposes abandoned homes with found objects, is just a collection of trash.
Bell, who has lived there with her family for 26 years, isn't a naysayer. In fact, perhaps taking a pointer from Guyton, she's raising money to rehab her home by allowing visitors to sign its yellow facade for a small donation.
As for the "OJ" house, she's confident the artist will make the best of the situation.
"It don't look good, but he's going to do something," she said. "I've seen him in action. The city tore it down a few times and it came back."
The artist's son, Tyree Jr., also turned up at the scene Friday to survey the damage. He's puzzled why someone would want to damage an outdoor art project that he said has brought millions of people to the city of Detroit. While not as upbeat as his father, he's also trying to maintain an optimistic attitude about the incident.
"We've got a lot of negative things going on in the city right now. By all means I want this to be a positive, not another negative," he said. "I guess you need to rise above the hate."
PHOTO GALLERY
The Heidelberg Project In Detroit
BEFORE YOU GO