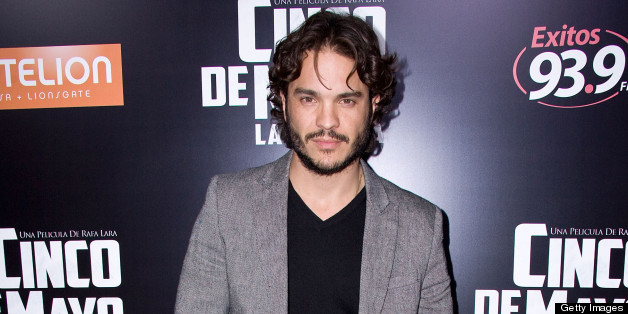 By Michael Lopez

Believe it or not, Cinco de Mayo is just three short days away. And "Cinco de Mayo" the movie is just one short day away. Rafa Lara's Mexican epic covers the historic Battle of Puebla and it's got an impressive cast to help tell the story. Lead Kuno Becker took some time this week to talk to us about his role.
"I play Ignacio Zaragoza in the movie, who was a real general in La Batalla de Puebla," he explained. "It was very interesting and I wanted to get the real perspective of who he really was. He had his doubts and I wanted to make him a normal person."
Becker stars alongside notable Mexican actors Christian Vazquez and Liz Gallardo in the film. And he definitely gets his fair of action scenes, many of which consist of him charging into battle on horseback.
"This movie had an incredible budget," he added. "There were so many costumes, tons of props and a lot of horses walking around the set."
And Kuno made sure to emphasize how proud he was of Cinco. Made entirely in Mexico, it easily holds up to classic epics like Braveheart and Saving Private Ryan.
"This is a very cool movie," he said. "And it's a great project for the Mexican film industry. It had a big budget and a great production team behind it."
But Becker told us the best thing about the movie is the fact that it finally sets the record straight about Cinco de Mayo. He explained how the holiday often gets confused with Mexican Independence Day, which actually falls on September 16.
"Cinco de Mayo is an important day," he went on to say. "The Mexicans had to defend themselves from the French. It is historically significant, but it is not Mexican Independence Day. Hopefully this movie can educate people a bit about the history."
By the sound of things, Cinco is the start of many good things to come for Kuno. He told us that he has several projects in the works, one of which happens to be a lead role in the TNT series Dallas.
Be sure to follow Becker at @KUNOBP on Twitter. And look for Cinco de Mayo in theaters tomorrow.
Read more Blogamole's News and Chisme here.
BEFORE YOU GO
PHOTO GALLERY
Cinco de Mayo Puebla