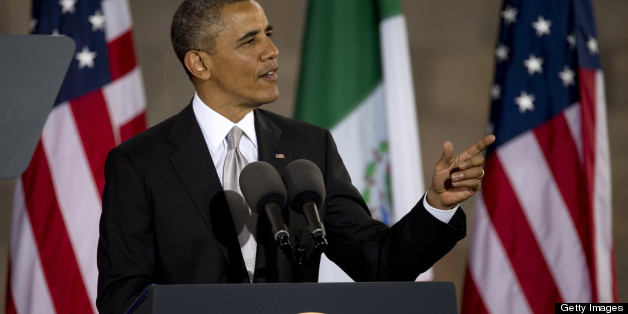 In the debate over reforming U.S. gun laws, opponents and supporters cite powerful statistics: 26 dead, 20 of them children, in the Sandy Hook Elementary School shooting in Newtown, Conn. Some 3,300 killed in the U.S. by firearms since Sandy Hook.
But one key number is rarely mentioned: more than 70,000 killed in Mexico's drug wars since 2007.
During President Barack Obama's visit to Mexico this week, both he and newly elected Mexican President Enrique Pena Nieto have focused primarily on the two countries' intertwined economic fates, at times seeming to direct the conversation away from shared national security challenges. Yet Obama also directly acknowledged the connection between U.S. gun law and violence south of the shared U.S.-Mexico border.
Speaking at the National Museum of Anthropology in Mexico City on Friday, Obama said U.S. gun policy reform can "save lives here in Mexico and back home in the United States."
"We also recognize that most of the guns used to commit violence here in Mexico come from the United States," Obama said, to applause. "As I've said in the United States, I will continue to do everything in my power to pass common sense reforms that keep guns out of the hands of criminals and dangerous people ... It's the right thing to do."
On Thursday, Obama spoke up on the issue at a joint press conference, in response to a question posed to Pena Nieto.
"We recognize we've got obligations when it comes to guns that are oftentimes being shipped down south and contributing to violence here in Mexico," Obama said. "But frankly, what I'm most moved by are the victims of gun violence not just in Mexico but back home."
Obama's response hinted at one reason why the connection between U.S. gun policy and Mexican violence is not often addressed: Much of the American public is not as concerned with violence beyond U.S. borders. Following the controversy over the anti-gun-trafficking program "Fast and Furious" and within the combustible political climate of gun reform, it is likely that few in Washington -- gun control supporters or opponents -- are eager to draw the connection between U.S. gun law and the immense toll of the drug war in Mexico.
In mid-April, a bipartisan measure to expand background checks for firearms purchases failed in the U.S. Senate, despite polling that shows some 90 percent of Americans support the checks. Other ambitions revived in the wake of the Sandy Hook shooting, such as the reinstatement of the assault weapons ban and additional anti-trafficking measures, also evaporated in the Senate.
But, referring to those failures of gun reform, Obama told his Mexican audience, "That was not the end, this was the beginning ... this is just the first round."
In 2010, then-Mexican President Felipe Calderon spoke before Congress and called for accountability on the part of the U.S. for its role in his country's drug war, inspiring both a standing ovation and anger, primarily from Republicans, Reuters reported at the time. Calderon, a vocal proponent of U.S. gun reform, said there was a direct correlation between the expiration of the U.S. assault weapons ban in 2004 and the spike in violence in Mexico. According to Calderon, Mexico had seized some 75,000 assault weapons and other guns since 2007, with more than 80 percent of them having come from the United States.
Earlier this year, The Atlantic wrote about a study conducted by the University of San Diego's Trans-Border Institute and the Brazil-based Igarapé Institute, which estimated "an annual average of 252,000 guns crossing the border, far above previous estimates based on seizure data."
Rolando Soliz, a former U.S. Secret Service agent and now CEO and president of Soliz & Associates, a private security company in Mexico, said Friday that Mexican cartels have capitalized on failures in U.S. gun policy.
"There is no question in my mind that the United States' failure to stop the flow of assault-type weapons to Mexico has directly contributed to the success that cartels have had in continuing to grow their organizations and operations," Soliz said. "Without the assault weapons -- which give them the muscle and confidence to move about at will -- they would have been eliminated a long time ago."
During Calderon's presidency, U.S. and Mexican authorities were involved in extensive joint security operations, though historically both have expressed wariness of working with their counterparts. Authorities in the U.S. not only focused on drugs and money laundering, but also began to zero in on gun trafficking over the border to Mexico. One such operation was the Bureau of Alcohol, Tobacco, Firearms and Explosives' "Operation Fast and Furious," in which illegal guns were tracked in an attempt to identify gun-trafficking networks connected to Mexican drug cartels. ATF and other agents lost track of hundreds of weapons, including several that were eventually traced to a shootout that killed U.S. Border Patrol agent Brian Terry.
But recently Pena Nieto has enacted new policy that would make the Mexican Ministry of the Interior the single point of contact for U.S. authorities working with their Mexican counterparts on issues related to drug violence -- in effect cutting back on these cooperative operations. This move, following an electoral campaign in which Pena Nieto largely ran on a national security platform similar to Calderon's, has sparked concern within the Obama administration, which it planned to address as part of the president's trip. The Mexican government claims that organized crime killings have fallen 14 percent in the first four months of Pena Nieto's administration, according to Reuters.
When Pena Nieto answered the question on U.S. gun reform Thursday, he struck a middle ground between applauding U.S. efforts at gun control -- calling it "a domestic issue" -- and noting that failures of U.S. policy have contributed to the tens of thousands killed in Mexico.
"We have made our commitment and we're working on it, to work together towards making our borders safer," said Pena Nieto, according to the White House's English translation. "We're fighting illegal smuggling of weapons. Mexico bows towards the efforts made by your government and will keep on supporting you to have better gun control in your country."
But he noted the actions that Mexico is taking independently, as well. "We're working by using more intelligence information and we are taking action to have safer borders so that we don't have weapons being smuggled into Mexico that regretfully end up hurting many Mexicans," he said.
Obama pledged to continue to push for gun reform. "But things happen somewhat slowly in Washington," he cautioned Thursday, urging patience.
Sen. Richard Blumenthal (D-Conn.), an outspoken advocate of gun reform in the wake of the tragedy in his state, told The Huffington Post on Friday that the people of Mexico understand all too well the need for reform.
"The people of Mexico share a very firsthand, tragic and horrific experience with gun violence," he said. "They know gun violence as well as we do and should have the same kind of stake in preventing needless, tragic, horrific shootings as [they] occur on the streets of both our nations every day.
"Loopholes in our laws enable trafficking of guns across the border, and guns have no respect for borders," Blumenthal continued. "They cross them as porously and frequently as other goods do, so I think we have a common stake in this problem."
Pena Nieto on Thursday expressed resignation about the reality of Washington politics when it comes to U.S. gun reforms, saying, "But we're not going to wait until that happens."