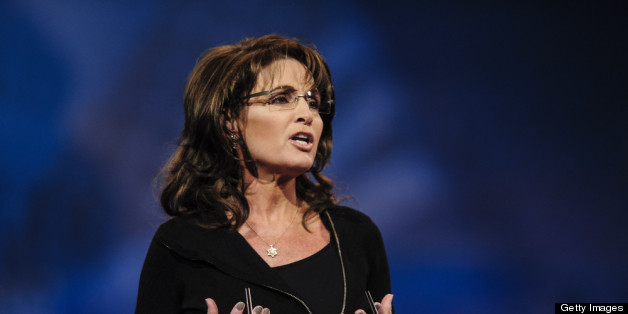 Sarah Palin, the former Republican vice presidential candidate and Alaska governor, said Friday that Americans should "stand up and fight for our freedoms."
Speaking at the first National Rifle Association annual meeting since the Manchin-Toomey background checks bill failed in the Senate last month, Palin -- wearing a shirt that read "Women Hunt" -- told the audience that "freedom is destroying itself."
Palin, who spoke out against gun control during her speech, also made references to the late former British Prime Minister Margaret Thatcher, who died in April, and described Thatcher as her "hero." Thatcher, however, was a firm supporter of gun control. Thatcher oversaw parliament's passing of the Firearms Act of 1988, which outlawed semi-automatic guns, among other gun control measures the NRA firmly opposes.
The AP reported on Palin's speech:
HOUSTON — Former Republican vice presidential nominee Sarah Palin says recent mass shootings have prompted leaders in Washington, D.C., to exploit tragedy in order to limit the freedoms of law-abiding people.

Palin spoke at the National Rifle Association's convention Friday afternoon in Houston.

She said while she and others were saddened and angered by December's shooting at Sandy Hook Elementary in Connecticut, the emotions that have resulted from it won't make anybody safer and won't "protect the good guys' rights."

The former governor of Alaska asked those at the convention to "keep the faith" and "stand up and fight for our freedoms."
BEFORE YOU GO
PHOTO GALLERY
Top Palinisms