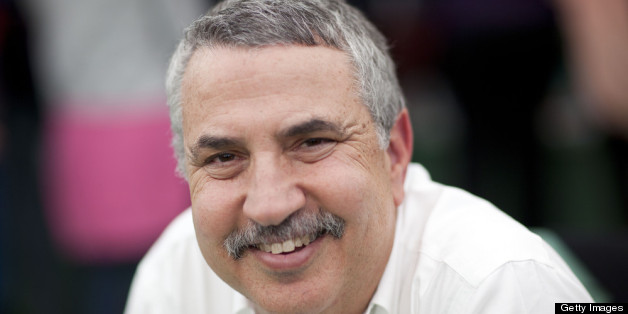 Last week, we got word that New York Times gadabout Thomas Friedman was going to step up and claim a piece of that sweet, sweet "Conferences About How The Future Will Be More Futuristic Than We Previously Imagined" lucre. He announced he will bring "The Thomas L. Friedman's The Next New World Forum" to San Francisco, where -- for prices as low as $995 -- he and a gaggle of "experts" shall muse at you for several hours.
The primary topic of the forum, it seems, is the "hyperconnected world." Now, I am no expert on the "hyperconnected world." Friedman suggests this is because I "slept through a decade," which doesn't explain why I seldom feel well-rested. Nevertheless, it would be neat if Friedman could come to understand that one consequence of a "hyperconnected world" is that most of us can see that his Times output contains a ridiculous number of redundancies.
Okay, here is a snatch of text from Friedman's latest column:
Here is what I mean: Something really big happened in the world's wiring in the last decade, but it was obscured by the financial crisis and post-9/11. We went from a connected world to a hyperconnected world. I'm always struck that Facebook, Twitter, 4G, iPhones, iPads, high-speech broadband, ubiquitous wireless and Web-enabled cellphones, the cloud, Big Data, cellphone apps and Skype did not exist or were in their infancy a decade ago when I wrote a book called "The World Is Flat." All of that came since then, and the combination of these tools of connectivity and creativity has created a global education, commercial, communication and innovation platform on which more people can start stuff, collaborate on stuff, learn stuff, make stuff (and destroy stuff) with more other people than ever before.
Obviously, a lot of this is surprisingly silly. The short version: Friedman wrote a book that one time and in the years since the book was published we got FacebookTwitteriPadBroadbandCloudDataSkypeCellPhonesNetflixWifiSnapchat, and this strikes him as some sort of epically gobsmacking event. Most people would simply write this off to the fact that while stuff is happening today, there will be other stuff happening tomorrow, and then a week from now, and then even later, other stuff will happen, as if there is a continual process of stuff "not existing" and then, later, "existing." There will be a new Stanley Cup winner soon, which "The World Is Flat" did not predict, either.
I also harbor the sneaking suspicion that Friedman basically stole all these ideas from Tanya Donnelly (which is okay, she's amazing!):
I think that people would be less predisposed to thinking that Friedman is just a weird guy, if he'd just stop talking about hyperconnectivity and the fact that FacebookTwitteriPadBroadbandCloudDataSkypeCellPhonesNetflixWifiSnapchat went from "non-existence" to "existence," over and over and over again. Wonkette's Kris Benson tracks back through Friedman's body of work and finds this paragraph, just sitting there in a column from two months ago:
I mean something very big happened in the last decade. The world went from connected to hyperconnected in a way that is impacting every job, industry and school, but was largely disguised by post-9/11 and the Great Recession. In 2004, I wrote a book, called "The World Is Flat," about how the world was getting digitally connected so more people could compete, connect and collaborate from anywhere. When I wrote that book, Facebook, Twitter, cloud computing, LinkedIn, 4G wireless, ultra-high-speed bandwidth, big data, Skype, system-on-a-chip (SOC) circuits, iPhones, iPods, iPads and cellphone apps didn't exist, or were in their infancy.
Didn't Jonah Lehrer get scolded for this sort of thing, by the way?
Of course, I also recognize much of these two paragraphs from the video that Friedman posted on the website of his upcoming forum:
While we were sleeping, something really big happened over the last decade. While we were focused on post 9/11 and the subprime crisis, something really big happened in the plumbing of the world and by the plumbing I mean, basically, the technological platform on which innovation and education and companies all rest. So back in 2004 I wrote a book called The World Is Flat, and the argument of the book is that the world was getting connected. Well, I would argue that in the last 10 years, while you were sleeping the world went from connected to hyperconnected.
I have a pretty good feeling that the first thing attendees will hear at this upcoming forum will be a variation on one of the above selections. Also, the second, third, fifth, seventh, eleventh, and thirteenth things, onward and upward through the list of prime numbers. Could you just sit at home and repeat this to yourself, over and over? Sure! I just saved you a thousand dollars!
At any rate, through the miracle of my own "hyperconnections," I notice that Friedman's gone from suggesting that "something really big happened" in the "plumbing" of the world to suggesting that "something really big happened" in the "wiring" of the world. So at least his metaphors are getting better? That's no mean feat, actually.
READ THE WHOLE THING:
Again Thomas Friedman Writes Same Column Again [Wonkette]
[Would you like to follow me on Twitter? Because why not?]
BEFORE YOU GO
PHOTO GALLERY
Political Look-Alikes