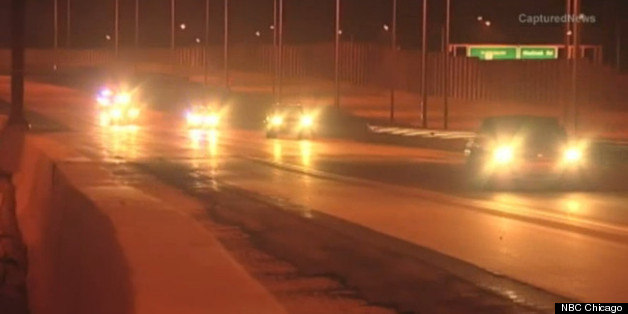 Updated story
It all started when police responded to a report of a burglary at a Sam's Club store in suburban Elgin, Ill.
When police arrived at the scene of the Sam's Club parking lot around 2:45 a.m. Saturday morning, they approached two men who were getting into a pickup truck, according to the Chicago Tribune.
When one police officer attempted to take one of the men into custody, he was reportedly pushed aside while the vehicle began to drive away. The truck struck a second officer and a police squad car as the men sped away from the scene.
Next ensued a chase that reached speeds of up to 90 miles per hour as officers pursued the truck through unincorporated Kane County and onto the Elgin-O'Hare Expressway before eventually heading north up Interstate 94 into Wisconsin, NBC Chicago reports.
The two men were finally taken into custody in Racine County, Wis., around 4:20 a.m. by the Wisconsin State Highway Patrol, according to ABC Chicago.
Named as suspects and charged in the chase were driver Jacob Braden, 22, and passenger Kevin Gorman, 30. Both face a series of felony charges including burglary and criminal damage to state supported property, per the Tribune. Braden was further charged with aggravated battery to a police officer and aggravated fleeing and eluding. Gorman was also charged with aggravated resisting arrest.
Both officers were treated for minor injuries at an area hospital. Elgin Police Cmdr. Glenn Theriault told the Daily Herald they were "very close to being severely injured."