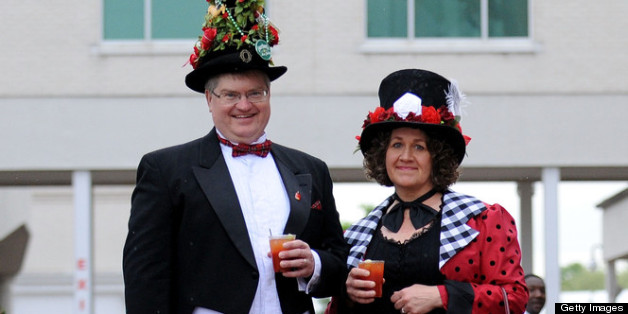 The 139th running of the Kentucky Derby won't last much longer than two minutes, but the party at Churchill Downs is an all-day affair.
Fans lined up early on Saturday morning outside the famed track in Louisville, braving the rain and enduring the security lines. Whether heading to Millionaires Row or to the raucous party in the infield, the scene at the Kentucky Derby has something for everyone, provided you like mint juleps.
As usual, the Kentucky Derby has brought out big names and even bigger hats. Aside from Louisville basketball coach Rick Pitino, who is a partial owner of one of the horses in the field, the world of sports was well represented. Julius Erving, Ken Griffey Jr. and Warren Moon were among some of the high-profile athletes photographed arriving. They were joined by Hollywood celebs, musicians, models and Miss American 2013 Mallory Hagan.
The reaction to the rain among the patrons seemed decidedly mixed as the undercard races went on ahead of the main event. While some were forced to cover their festive gear with ponchos, fans in the infield set up improvised slip-and-slide activities.
Here is a selection of images from the Kentucky Derby as well as the Kentucky Oaks:
PHOTO GALLERY
PHOTOS: Fans At Kentucky Derby
BEFORE YOU GO