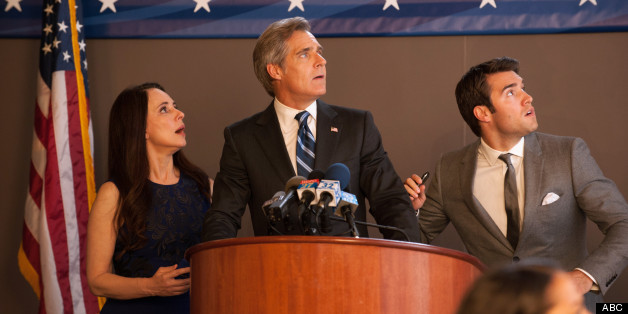 "Revenge" has tapped a new showrunner, and his name is Sunil Nayar, according to The Hollywood Reporter.
Nayar replaces "Revenge" creator Mike Kelley, who stepped down in April in what the executive producer termed "a difficult mutual decision between myself and ABC studios." Nayar was considered the frontrunner for Kelley's position when the news broke.
Nayar joined "Revenge" at the beginning of its second season, having spent two years as an executive producer on fellow ABC drama "Body of Proof." His promotion comes alongside a new two-year overall deal at ABC Studios.
Although "Revenge" has yet to be renewed, Nayar's new position is a strong indication that the network still believes in the buzzy series, despite its recent ratings woes.
Star Gabriel Mann, who plays Nolan Ross on the series, recently told HuffPost Live that the cast was reeling from the loss of Kelley. "As a cast, we're still all processing that information right now. Mike is the mad genius behind this whole show and obviously, there's a lot of nostalgia for all the time that we've spent together and what has been created as a group, but ... we have an amazing creative team behind the scenes and, by in large, I think that team will continue to stay in place ... I think a Season 3 on 'Revenge' may look a little bit different than a Season 1 or 2. But that's the nature of the beast."
"Revenge" airs Sundays at 9 p.m. ET on ABC.
Do you think "Revenge" deserves a third season? Weigh in below!
PHOTO GALLERY
2013 Renewal Index: Canceled, Renewed & On The Bubble Shows
BEFORE YOU GO