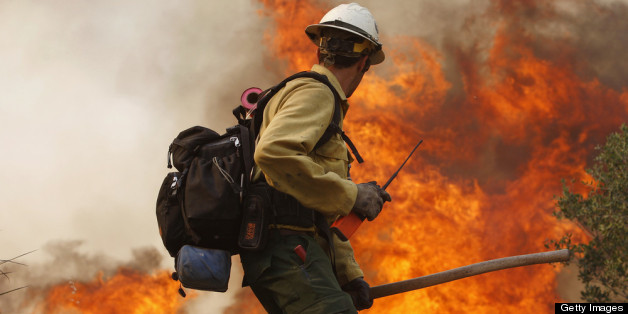 While many residents in the 5200 block of Via Santana in Newbury Park evacuated their homes Thursday as flames raced down a hill behind them, veteran firefighter Howard Orr's family stayed put.
Orr, a Santa Barbara County Fire Department captain who has lived in the Dos Vientos neighborhood for 10 years, was at work about 50 miles away when the fire broke out Thursday morning. But based on phone conversations with his wife, Monique, who was home, he determined that the house was in no danger of catching fire.
Orr, 44, turned out to be right.
No homes on the street, or anywhere else, were destroyed in the Springs Fire that has burned about 28,000 acres.
"A lot of it has to do with the construction of the homes" on Via Santana, Orr said Friday. "Stucco siding. Tile roofs. Double-pane windows. Those are all features that are going to reflect the heat a lot better than say, a wood siding house, and make them less prone to ignite."
Other mitigating factors included the completion of pre-fire season weed abatement in the neighborhood and manicured lawns, he said.
"Most of these yards, they're watered so that the vegetation still has a lot of moisture in them," he said.
Ventura County Fire Department spokesman Bill Nash attributed the no loss of homes primarily to the expertise local firefighters have in combating brush fires. Only 15 homes were damaged as of Friday afternoon.
"It starts with the training and professionalism of the firefighters," Nash said. "People come from all over the world to learn how we fight wildfires here in Ventura County."
Nash also cited weed abatement efforts. The department sends out about 15,000 notices every April to homeowners whose properties abut natural vegetation, he said.
"What we require those people to do by June 1 is clear vegetation 100 feet from their structure," he said. "That gives us defensible space, a cushion if you will. It allows the firefighters to get between the structures and the advancing fires.
"And combined, those two things has resulted in just an amazing success story."
As he raced home from Santa Barbara, Orr advised his wife to pack some things, including the family dog and important documents, and be prepared to evacuate just in case. The couple's two children were at nearby Sycamore Canyon School, which was later evacuated.
But based on what she told him about the direction of Thursday's strong winds, he felt it wasn't necessary.
"The winds were actually moving kind of laterally and it was kind of pushing the fire away," he said. By the time he got home, about 10:30 a.m., the worst was over, with firefighters starting to wrap their hoses and move to a more pressing hot spot, he said.
The fire had advanced to the property's rear boundary, but no further. About the only damage it sustained was a small patch of bark burned by an ember, he said. Nash said he can't guarantee that a home will never be lost in a brush fire.
"But we've had 4,000 homes threatened and none have been destroyed," he said. "We think that's a big win for us." ___
BEFORE YOU GO
PHOTO GALLERY
Wildfire Burns In Southern California