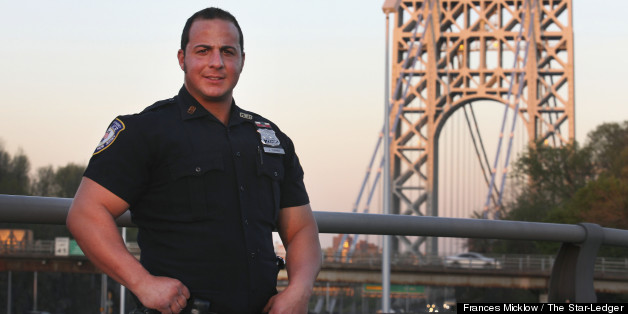 On Tuesday April 30, Port Authority Officer Jesse Turano saved a man who attempted to jump from the George Washington Bridge, marking his fifth suicide prevention at the site this year, according to the Star-Ledger.
Turano, 33, was patrolling the bridge when he got a call about a man ignoring another officer's warning not to venture onto a closed walkway.
Turano recognized the signs of a possible suicide and, according to the Record, hauled the would-be jumper back to safety in the nick of time. He grabbed the man around the waist and brought him back to safety just as he tried to fling himself over the railing of the bridge.
A Port Authority spokesman later told the Ledger that he's rescued at least four others from similar suicide attempts this year.
NJ.com tweeted a photo of Turano.
This is officer Jesse Turano. ow.ly/i/21tTb His bosses say he's saved 5 people from jumping off the GWB. nj-ne.ws/kEbqy

— NJ.com/bergen (@Bergen_NJ) May 2, 2013
According to the New York Post, there were a record number of suicide attempts from the bridge in 2012 totalling at 43, 18 of which could not be prevented.
The unidentified man told Turano he'd been unemployed for three years and was "tired of looking for a job."
"He kept thanking me and I said the best thanks you can give me is if you get yourself some help," Turano told the Star-Ledger.
Last month, another New Jersey cop was able to stop an attempted suicide by using his taser.
BEFORE YOU GO
PHOTO GALLERY
The Heroes of Hurricane Sandy