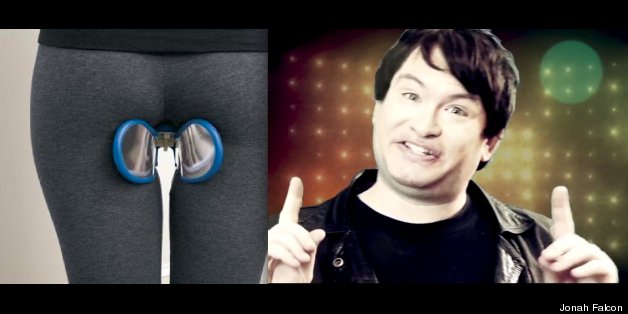 Jonah Falcon is so proud of his record-setting, world famous penis that he's now celebrating it in song.
And his new music video, "It's Too Big," says it all.
If you're scared what you might see, you might want to shape up with the Super Kegel Exerciser, one of the many weird items on David Moye's Mother's Day gift guide.
Sex stories dominated this week's weird news. That shouldn't be too much of a surprise. After all, May is National Masturbation Month, and Philadelphia is celebrating with its first annual Masturbate-A-Thon.
On Saturday, Jedi junkies marked Naked Star Wars Gardening Day, and Monday ushers in International Clitoris Awareness Week.
This week we also learned that Wesley Warren Jr., the Las Vegas man with a 132-lb. scrotum, finally had surgery to lighten his load, while another man, clearly obsessed with phallic imagery, blew $2,600 at a carnival trying to win a giant stuffed banana.
A naked Florida man ran into a Daytona Beach 7-Eleven telling cops, "I know I am a monkey."
And a controversial sex ed book for first graders in Germany features comics of a woman applying a condom to a man's erect penis -- quite an eyeful for a 5-year-old.
What was the weirdest story of the week? If you're not too hot and bothered, scroll through the gallery and vote in the poll below.
PHOTO GALLERY
The Weird News Top 10 (April 29 - May 4)