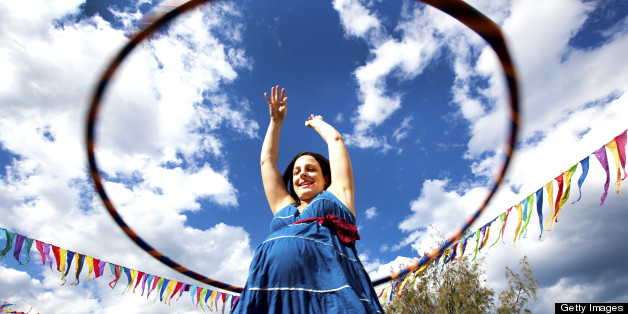 The stress and strain of constantly being connected can sometimes take your life -- and your well-being -- off course. GPS For The Soul can help you find your way back to balance.
GPS Guides are our way of showing you what has relieved others' stress in the hopes that you will be able to identify solutions that work for you. We all have de-stressing "secret weapons" that we pull out in times of tension or anxiety, whether they be photos that relax us or make us smile, songs that bring us back to our heart, quotes or poems that create a feeling of harmony, or meditative exercises that help us find a sense of silence and calm. We encourage you to look at the GPS Guide below, visit our other GPS Guides here, and share with us your own personal tips for finding peace, balance and tranquility.
In her GPS Guide, Alexandra Franzen shares three tools that help her de-stress and get back on course. Check them out below (as well as some of her other visual inspirations in the slideshow) then let us know how you find balance in the comments section.
1. Here's a game that I call "Tarot-etry" (Tarot + Poetry):
Choose a Tarot card from a deck -- or, if you don't have a deck, flip to a random page in a photo album, picture book or inspiring magazine.
Allow the visual to resonate, for a few moments. Then: take 60 seconds and write a poem in response.
(Don't overthink it -- just play! You'll be amazed at what flows out of your fingertips.)
2. Gratitude Bonanza!
When I'm feeling overwhelmed, I like to gather a stack of postcards and write 'thank you' notes to the last 10 people that helped or inspired me, in some way.
Sometimes I write a long, thoughtful note. Other times, I simply scrawl "YOU ARE AWESOME" in hot pink marker, surrounded by a constellation of gold stars. Voila!
Expressing your gratitude is an incredible way to lift your spirits, stay connected, and even spark new friendships. And people love getting old-fashioned mail! (Absolutely no one will complain.)
3. Hoop Hoop Hooray!
I recently started hula-hooping, every Friday afternoon. Keeping the hoop moving requires my complete and total focus. It's a form of moving meditation -- and best of all, you can listen to disco while you do it!
Start with the biggest hoop you can find -- it'll be easier to keep it moving. Throw on your favorite '70s funk music, and go to town!
(I DARE you not to crack a smile!)
PHOTO GALLERY
Alexandra Franzen's GPS Guide
Alexandra Franzen is an inspirational writer, communication expert & author of 50 Ways To Say You're AWESOME. She wants to live in a world where emails are short, love letters are long and every 'thank you' note is scribbled by hand. Learn how to write with astonishing ease at AlexandraFranzen.com.
For more GPS Guides, click here.
BEFORE YOU GO