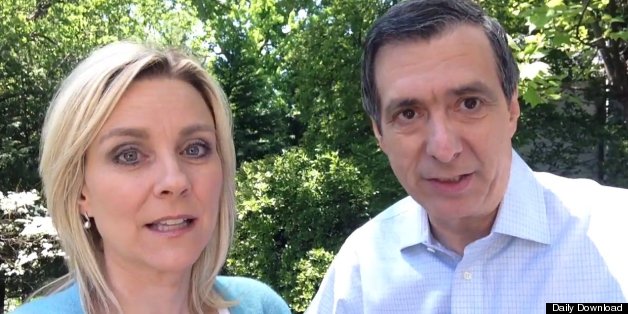 Daily Download editor-in-chief Lauren Ashburn has apologized and retracted a video she did with Howard Kurtz about Jason Collins.
Kurtz was fired from the Daily Beast last week after he wrote a piece that falsely claimed Jason Collins was not forthcoming about the fact that he was once engaged to a woman. He had also joked about Collins in a video he made with Ashburn for Daily Download.
"I knew Kurtz was going to make this point about Collins before we taped, and I didn't double check to make sure it was accurate," Ashburn wrote on Sunday. "As soon as I knew about the mistake, I pulled the video off of the site without acknowledging and correcting the mistake. That was another error."
She continued, "To Jason Collins, who courageously revealed details about his personal life, I am deeply sorry. And, I also apologize to Daily Download readers who trust the information we provide."
Ashburn's statement comes after Kurtz apologized on air on Sunday. Speaking on his CNN show "Reliable Sources," Kurtz apologized for his Daily Beast column, as well as the Daily Download video. "In a video where I discussed the issue, I wrongly jokingly referred to something I shouldn't have joked about," he said.
He also addressed his role at Daily Download, which had raised questions from Daily Beast staffers before his firing. He frequently appeared in videos for the site, leading media watchers to wonder whether he had a greater stake in the operation than he disclosed.
"I'm a contributor to the Daily Download," Kurtz reiterated on Sunday. "I'm paid on a freelance basis. I don't have any equity in the site. My basic job was to make online videos."
BEFORE YOU GO
PHOTO GALLERY
Twitter Reacts To Kurtz News