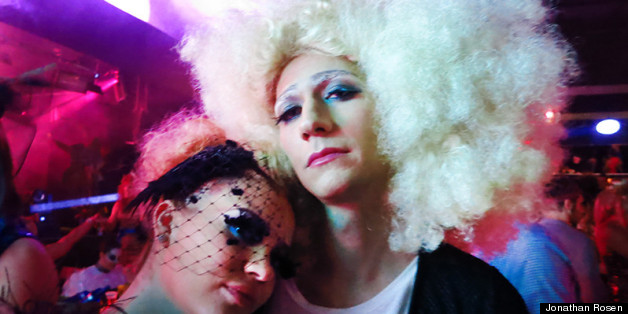 A fiery redhead drag queen, dressed in a leopard suede leotard and a sheer black half slip sashayed her sculpted legs down the runway before screaming "werk, bitch!" to every single one contestant that paraded down her runway. The Mistress of Ceremonies, known by her stage name Epiphany, wasn't in a bad mood. She just demanded perfection from any contestant that had the courage to grace her runway.
After all, it was all for a good cause.
Epiphany, the dozens of contestants and hundreds of gay men and allies gathered Saturday night at XL Nightclub in Times Square to flaunt their costumes, and catwalk skills for the second annual DragOn, an drag show event that raises money for HIV/AIDS research.
The theme for DragOn this year: The Animal Inside. (Luckily, the only animalistic behavior that night was on the catwalk and not in backstage catfights.) Beneath the 10-inch stilettos, however, these men meant business, evidenced by the $25,000 raised to support HIV/AIDS research.
Check out photos from the event, then scroll down to keep reading:
PHOTO GALLERY
'DragOn' NYC Event
Founder Zachary Barnett staged the first DragOn event two years ago with his close friends Tom Smith, Josh Machiz, Victor Rodrigues and Brian Paylago. Barnett is the founder of the Abzyme Research Foundation, which is working with the University of Texas to push for a phase I FDA trial of an AIDS vaccine. If successful, this innovative therapeutic vaccine could provide accessible treatment for more than 33 million HIV positive individuals worldwide.
Co-host Tom Smith helped organize DragOn as a way to combine self-expression with an important global issue.
"I really do see DragOn as an opportunity to be a huge event" said Smith, who wore a snake-inspired costume that took him nearly a year to make.
The number of attendees to DragOn has nearly doubled since last year and the amount of funds raised has nearly tripled, Barnett said.
Beyond the glamorous make up, the sassy attitudes and sashaying, guests felt a palpable sense of comfort and hope.
"It's exciting, it's energetic, it's moving... and everyone is comfortable," Jennifer Palmieri said. "Anyone can come here and feel 100 percent themselves and not be judged at all."
Palmieri dressed as a snow leopard that night, but outside of the party she is a mother of two with a connection to someone with HIV.
Those who did not manifest their animalistic instincts to the fullest in the form of a costume were among a very small minority.
Mooniette Kim, 23, who is no stranger to minorities, was definitely ashamed to represent this minority.
"It is so over the top, I love it! I feel so underdressed," said Kim, adding that she plans to be more prepared next year.
Returning attendee Luke Dearduff wore something a little more revealing than his geisha-inspired costume last year.
"I'm a ruby-breasted hummingbird," he said as he shimmied and pointed to the hot-glued rubies on his chest. "I chose this costume because I have a big heart. A really big heart," he winked.
Though there may have been a bit of a double-entendre there (you'll have to ask his partner for verification), most people were there because they do have big…hearts.
"We've all had friends affected by HIV and AIDS," Dearduff said.
Palmieri echoed that sentiment, noting, "This event has proven to me so many different layers of life that I once was critiqued by. I don't feel that way anymore."