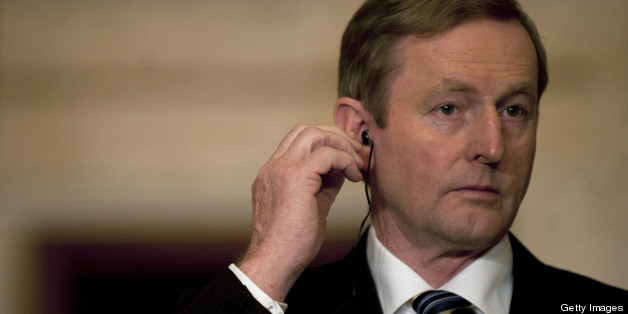 Irish Prime Minister Enda Kenny defied leaders of the Catholic Church on Monday, stressing his commitment to a scheduled vote on abortion legislation. Catholic leaders in the Irish Republic had earlier threatened lawmakers who would vote in favor of the proposed bill with excommunication.
Irish legislators are set to vote on a bill proposed by the prime minister's cabinet that would legalize abortion in case of a threat to the life of the pregnant woman. The Irish government insists the proposed bill will not change the Republic's laws on abortion, but is meant to clarify the rules on terminating pregnancies. As the Associated Press explains, the Irish constitution bans abortion but Ireland's Supreme Court ordered in 1992 that the procedure should be legal when the woman's life is at risk. The news service notes that the contradiction between the Constitution and the Supreme Court decision has left hospitals "reluctant to terminate pregnancies except in the most obviously life-threatening circumstances."
Catholic leaders on the other hand argued in a statement this weekend that the bill would "make the direct and intentional killing of unborn children lawful in Ireland."
In remarks reported by the Irish National Broadcaster, Cardinal Shane Brady even threatened supporters of the bill with excommunication.
Prime Minister Kenny shot back on Monday, arguing that it is his duty to end the legal confusion. "It is time to bring clarity and certainty to it," Prime Minister Kenny said to the Irish Times. "It is time to recognise that we've gone on now for 30 years without any regulation without any professionalism involved in this area and that's what this is all about.
"Everybody's entitled to their opinion here, but as explained to the Cardinal and members of the church, my book is the constitution and the constitution is determined by the people," Kenny added. "That's the people's book. We live in a Republic and I have a duty and responsibility as head of Government to legislate in respect of what the people's wishes are."
The debate about abortion, traditionally a controversial topic in Ireland, swirled after the death of Savita Halappanavar, an Indian woman who died from blood poisoning after being refused an abortion in an Irish hospital. Halappanavar's friend claims a nurse told her that the hospital would not perform the life-saving abortion because it was Catholic.'
BEFORE YOU GO
PHOTO GALLERY
Around The World In 11 Photos