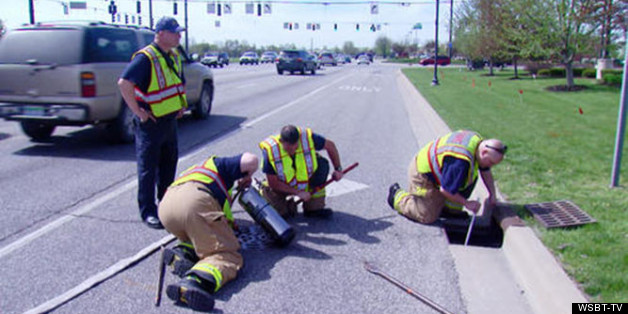 Five stranded baby ducks have several members of the Mishawaka Fire Department to thank after the firefighters rescued the ducklings from a storm drain in Indiana.
According to WSBT-TV, the firefighters were called to a storm drain in a busy intersection Sunday after a passing motorist spotted the baby ducks fall into the sewer grate. With the mother duck pacing nearby, the emergency workers were able to scoop the five ducklings out within 15 minutes.
Click over to WSBT to read the full story.
Perhaps not surprisingly, ducklings become trapped in storm drains fairly often. Firefighters in Massachusetts and Florida also saved helpless baby ducks from drains within the past month.
The heartwarming rescue is the latest in a series of instances in which firefighters have responded to calls of an animal in need and volunteered their services.
Earlier this month, volunteer firefighters in Harford County in Maryland retrieved a baby fox from a storm drain after residents reported hearing the pup's cries for help. The firefighters are "tasked with protecting lives, not just human," the Joppa-Magnolia Volunteer Fire Station said in a statement, according to The Baltimore Sun.
In April, firefighters in the United Kingdom spent six hours cutting through 8 feet of cement and steel in order to save a dog that had been stranded in an underground drain for days.
See photos of the duckling rescue in the gallery below.
PHOTO GALLERY
Firefighters Rescue Ducklings
BEFORE YOU GO