A Washington Wizards Wikipedia page was recently altered so that a blurb about Jason Collins' coming out referred to the athlete as a "faggot."
Queerty notes that the 2012-2013 Washington Wizards' Wikipedia page was changed over the weekend, and a sentence about Collins that originally read, "He was the first active male professional athlete to come out as gay," was changed to, "He just revealed he is a faggot."
The term "faggot" has since been removed from the page, and the description has been revised.
Those who add content to Wikipedia are supposed to adopt a neutral point of view, according to Wikipedia guidelines. However, anyone can contribute and those who are users must abide by the "Assume Good Faith" rule and edit if there is something amiss.
The Huffington Post reached out to a Wikimedia representative for additional comment on the guidelines but did not receive an immediate response.
(Story continues below)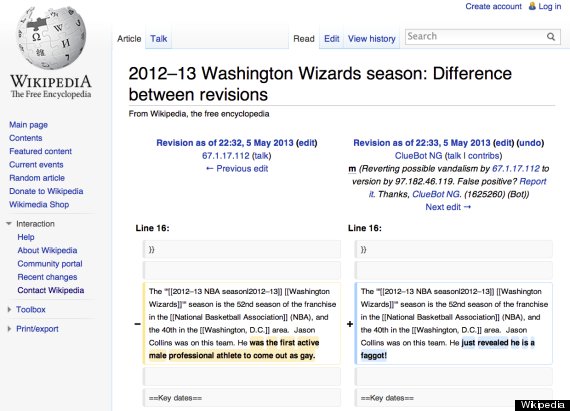 A screen grab of the altered 2012-2013 Washington Wizards' Wikipedia page
The 34-year-old's coming out as the first gay, male U.S. athlete in a major professional sport was met with criticism from others as well.
Collins was criticized by ESPN NBA reporter Chris Broussard, who said that homosexuality is a sin and that gays can be "saved" if they ask God for forgiveness. Miami Dolphins player Mike Wallace tweeted that he didn't understand how there could be "all these beautiful women in the world and guys wanna mess with other guys."
Despite some instances of homophobia, Collins says the overall response to his coming out has been "remarkable."
"When back-to-back calls from Oprah Winfrey and President Obama come in, that was the moment where you go, 'What is going on?'" Collins told the Washington Post. "When you pick up and someone says, 'Please hold for the president,' it really sinks in. It's been a heck of a ride."
"Not even in my wildest dreams could I have imagined all this — the response. You're always thinking, 'I'm going to make this happen in my own words, on my own terms, and I'll deal with the repercussions and consequences.' And it turns out the country was really ready for something like this. It's been remarkable."
BEFORE YOU GO
PHOTO GALLERY
Straight Professional Athletes Who've Come Out In Support Of LGBT Rights