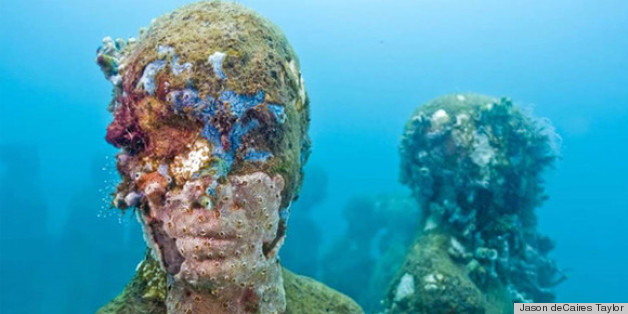 The Huffington Post is proud to present an Ecofabulous story.
Boy oh boy, do I have some fabulous art for you today. The work of Jason deCaires Taylor is insanely beautiful and literally green -- as well as pink, orange and yellow! He creates life-sized concrete sculptures and then lowers them to the ocean floor. It's there that they become permanent art installations as well as new structures for the tropical sea creatures living in the deep. Imagine going for a morning snorkel and happening upon this stunning artist-made reef off the coast of Grenada? I'm guessing it would be a magical (yet kinda spooky) experience! Here are a few words from Jason about these magical albeit eerie installation-reefs:
Coral reefs attract an array of marine life (such as colourful fish, turtles, sea urchins, sponges, and sharks) and also provide enclosed spaces for sea creatures to breed or take refuge… One of the greatest benefits of artificial reefs is that they have lifted the pressure off natural reefs which, over the past few decades, have been over-fished and over-visited. By diverting attention to artificial reefs, natural reefs have now been given a greater chance to repair and to regenerate.
PHOTO GALLERY
Jason deCaires Taylor Art