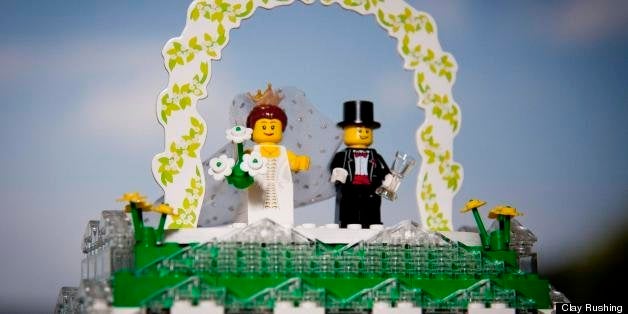 Here's what happens when an extreme LEGO fan gets married.
Clay Rushing posted photos on Imgur Thursday of the LEGO engagement ring box he used to propose to his girlfriend, Jennifer, and the LEGO cake topper that was featured at their October 2012 wedding.
Rushing told HuffPost Weddings that he's been a LEGO fan since he was a kid, and continues to make LEGO creations as an adult. He planned to propose to Jennifer with a scavenger hunt around their school, the University of Georgia, and wanted to give her the engagement ring in something more special than a regular ring box. Plus, he said she had become accustomed to his love for LEGOs.
"I figured that something more jewelry-box-sized would be more meaningful. And, well, why not make it out of LEGOs?" Rushing said. "I think it gave me an opportunity to express my love to her in a medium that I knew she would understand."
It took him about three hours, in the middle of the night, to make the box. After Jennifer completed the scavenger hunt (Rushing set up notes directing her to go to various places on campus, finally ending at the place where he first asked her out), he gave her the LEGO ring box. She said "yes!"
Then, Rushing decided to make a LEGO wedding cake-topper, too. Check out photos of the cake topper and ring box below:
Another couple used LEGOs as the inspiration for their wedding decor. Their boutonnieres, cuff links, cake and table decorations all incorporated the toy blocks.
Check out photos of other "geeky" weddings in the slideshow below.
PHOTO GALLERY
Geeky Weddings
BEFORE YOU GO