The National Republican Congressional Committee's website was hacked Sunday, with the domain "nrcc.org" showing links to erectile dysfunction drugs. The hack was fixed by Monday morning to redirect to "www.nrcc.org."
On Sunday the site looked like this: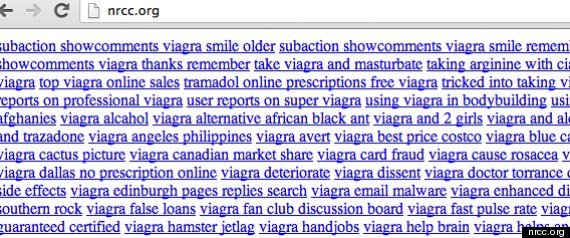 The NRCC now joins several other high-profile political figures who've recently suffered electronic security breaches. Russian hackers published first lady Michelle Obama's credit report in March, and earlier in February the email accounts of the Bush family, including both former presidents, were apparently hacked and personal information was posted online.
Media websites, however, have suffered more prominent hacks of late. A group called the Syrian Electronic Army took credit for hacking the Associated Press' Twitter account and posting an erroneous message about President Barack Obama being injured in an explosion at the White House. The group has also taken credit for hacking NPR, Reuters, Al Jazeera and BBC.
No one has publicly taken credit for the attack on the NRCC website.
National Journal reported that the NRCC has redesigned its website in the mold of Buzzfeed, a social news site.
BEFORE YOU GO
PHOTO GALLERY
113th Congress Facts