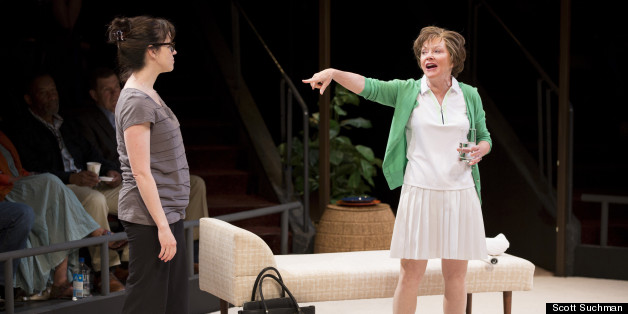 WASHINGTON -- The action has barely begun during Other Desert Cities when the family unit at the center of the show starts to unravel in one brief mother-daughter exchange:
Polly: It's our fault, Lyman, we failed at providing normalcy -- we had two children, and both of them have entirely abnormal careers...

Brooke: (cuts her off, tense) Three, actually.

Polly: Excuse me?

There is a moment.

Brooke: Three children.

Beat.

Polly: Three. Of course.
From this moment on, the audience knows it's in for a bumpy ride. But oh, what a fun ride it is.
Closing out Arena Stage's 2012-2013 season, Other Desert Cities makes its triumphant debut in Washington after being nominated for the 2012 Tony Award for best play.
Starring two-time Helen Hayes Award winner Helen Carey as matriarch Polly and two-time Tony Award nominee Larry Bryggman as father Lyman, Other Desert Cities follows a family reunited for Christmas in Palm Springs. While the Wyeths appear to be a traditional nuclear family from the outside, the audience gets an inside view that quickly reveals all is not what it seems.
Daughter Brooke, recovering from a mental breakdown in New York, has written a book exposing the family's darkest secrets, with a little help from alcoholic Aunt Silda, and is about to show her Reagen-esque parents the manuscript, while son Trip is just trying to hold everything together.
As the action unfolds over Christmas Eve, it becomes clear that the Wyeth family may never recover from what comes to light.
Directed by Helen Hayes Award winner Kyle Donnelly and written by Pulitzer Prize finalist Jon Robin Baitz, Other Desert Cities keeps the audience questioning: Who do you trust? Are there causes worth killing -- or dying -- for? How far can a parent-child relationship be stretched before it's irrevocably broken?
You have until May 26 to make up your own mind.
BEFORE YOU GO
PHOTO GALLERY
Tony Contenders 2013