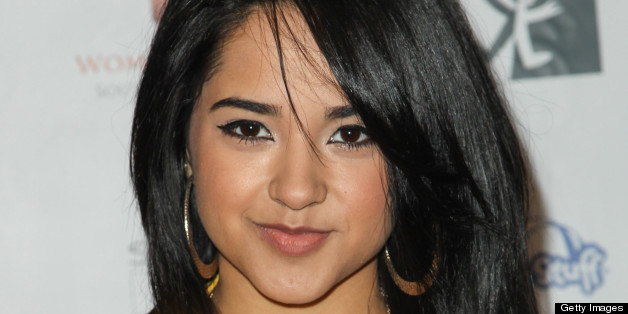 Becky G is an up and coming Latina rapper on a mission to make it big… and make it big, she has. Born Rebbeca Marie Gomez, she's gone from being a YouTube sensation to a legitimate musical artist in less than two years. Her recently released single, "Becky From the Block," samples and pays tribute to Jennifer Lopez's tune with a similar message, "no matter where I go, I know where I came from." In Becky G's case, that "hood" is Inglewood, Calif., where the music video was shot featuring her very own family and loved ones as well as the incredible Ms. JLo herself, performing a cameo at the end to demonstrate her support of the Mexican American singer and rapper.
Becky G from the block
Becky G says she started creating music when she was 9-years-old. In the lyrics to "Becky From the Block," she recounts facing poverty and moving into her grandparents' garage. Living there for approximately two years, Becky G says that, as the oldest sibling, she felt responsible for her family and tried to take the lack of privacy (even as a preteen) in stride.
Then, at the age of 10, after convincing her parents to enroll her in acting classes, she performed on the Universal City Walk stage and the rest, as they say, is history. Now, at 15-years-old, Becky G has worked alongside Will.i.am and Cher Lloyd in addition to scoring the sought after Dr. Luke (Kelly Clarkson, Katy Perry) to produce her debut album. Recently, her track "Problem" featuring Will.i.am was used on the soundtrack to Selena Gomez's flick, "Hotel Transylvania". Watch the music video for "Problem" below.
Musical influences
Becky G says her musical influences are varied, including hip-hop, country, the Temptations, Selena, Christina Aguilera and Etta James. In terms of her rap aspirations, Becky G is proud to be Latina, Cholula obsession and all, but draws inspiration from Missy Elliot and the late Lisa Left Eye of TLC with Crazy Sexy Cool being her "chore soundtrack" of choice at the moment.
In addition to rapping, Becky G plays the guitar, sings and writes songs. Dr. Luke says her potential is limitless and he would know as he has written and produced award-winning hits for Katy Perry, Britney Spears, Kelly Clarkson and Ke$ha.
The effect of new fame
Now that Becky G's video has millions of hits on Youtube and she's quickly becoming a household name, the effects of fame have begun. Namely, Becky G says she now enjoys sushi, something she previously thought of as "weird." Dr. Luke has signed her to Kemosabe/RCA under Sony Music Entertainment and it appears as though her dreams are coming true. In her song, "Becky From the Block", Becky G declares that fame hasn't taken away her family values, love for her mami's cooking or obligations to do her chores just like any other teenager.
The thing is, for Becky G, fame isn't really a new phenomenon. Since the age of 10 she's been featured in commercials for The Disney Channel and Nickelodeon. Her friends at school saw her on television and, according to her, she was bullied, got into fights and was even "jumped in the girls' bathroom." Now, she stays grounded while enjoying some of the little perks of her growing reputation.
Perhaps the most refreshing part of Becky G is her humility and honesty as she knows she is still growing. She says on her website, "Even though I know who I am, musically I'm a blank canvas. I know what colors I want to use but I don't know what picture I want to paint yet. This is my time to test the waters and try different sounds. I just want to stay creative, share my ideas and see where it all leads."
Beck G 'Becky from the Block' music video
Originally published in VOXXI as A rising star: Becky G from the block
BEFORE YOU GO