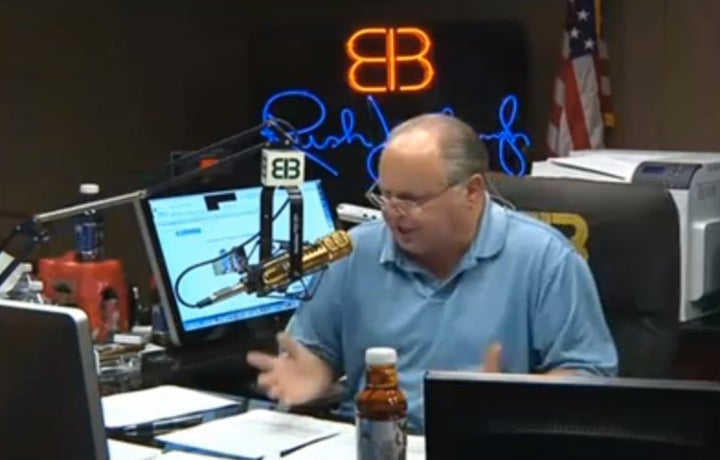 The controversy over Rush Limbaugh's ad sales continued on Tuesday.
Cumulus, the radio network that Limbaugh has reportedly threatened to leave, released its latest quarterly earnings figures on Tuesday morning.
Cumulus CEO Lew Dickey has repeatedly pointed the finger at Limbaugh as a source of some of his company's troubles. (Limbaugh sources have said that Dickey is using the radio host as a scapegoat for his own business failings.)
On Tuesday, Cumulus reported a slight 1.3 percent decline in revenues compared to its first quarter in 2012. The company attributed the losses to "lower political revenues and general lower advertising spending in some of our markets."
Asked about Limbaugh during the conference call, Dickey stuck to his message.
"We've had a tough go of it the last year," he said. "The facts are indisputable regarding the impact certain things have had on ad dollars."
While Limbaugh backers portrayed his potential departure from Cumulus as one coming from strength, his foes have said it was evidence of his increased weakness. Angelo Carusone, the Media Matters staffer who has run the "Stop Beck" and "Stop Rush" campaigns, wrote in a blog post on Monday that Cumulus was not alone in blaming Limbaugh:
Cumulus isn't the only radio company reporting significant losses attributable to Limbaugh. Dial Global has also attributed millions in losses to Limbaugh. Many others in the industry report negative consequences resulting from Limbaugh's recklessness. Consequently, this Limbaugh source's contention that Cumulus' advertising problems have nothing to do with Limbaugh falls apart when we look at the rest of the industry. What would this source say in response to the ills faced by other companies in connection to Limbaugh's show? That it's all their fault too?
Monday also saw Mediaite quoting a source "with direct knowledge" of Limbaugh's ad situation. The source told the site that "the vast majority of national advertisers now refuse to air their ads during Rush Limbaugh's show."
BEFORE YOU GO
PHOTO GALLERY
Limbaugh Advertisers