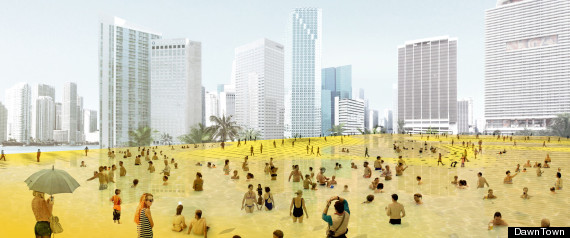 Chicago has "the bean." Paris has the Eiffel Tower. Seattle has a Space Needle.
And Miami? Miami will have a less-bad bridge as its architectural icon, if budget spats allow.
But what if the city had a towering cathedral of greenery for the Museum Park metro stop? What if Downtown had a giant pulsing sea urchin that hid its unsightly water pump station? What if Marine Stadium boasted a floating, turtle shell-inspired stage that saluted its natural beauty while symbolizing Miami's bright and modern future?
Those are the ways in which the organizers of design competition DawnTown want Miami to dream: in architecture. Started by land use attorney Andrew Frey in 2007, DawnTown has held international competitions for a sea plane terminal, floating stage, water pump station, metro mover stop, and a design/build competition that focused on the evolution of Downtown.
Wednesday morning they announced the winners of this year's Landmark Miami ideas competition, which asked firms around the world for a "symbol of the future" set in Downtown's Bayfront Park.
New York City's Studio Dror took the top prize with Miami Lift, a mixed-use programmable exhibition space that gracefully curves upward, like a plane in flight, to gaze on Biscayne Bay. Second prize went to Montreal's REMED for Lemonade Square, a sunny, perforated double-decker platform with an upper level wading pool and a lower level community space. Yes, please! (Story continues below.)
PHOTO GALLERY
DawnTown Miami Architecture Design Competition
DawnTown's Joachim Perez, an architect who has overseen the competitions since 2010, said the Landmark contest stemmed from a conversation with the Miami Downtown Development Authority over the master plan for sculpture at Bayfront Park. Designers were asked to create something iconic close to the water, either keeping Isamu Noguchi's long-hobbled fountain in place or moving it altogether.
"Miami's a linear city, close to the bay, but there's no iconic piece," Perez explained.
The third place and honorable mention submissions were also eye-catching: Miami-Santiago duo Mauricio Gonzalez and Alfredo Andia dreamed up Torre De Las Americas, a slender, hikeable open tower that "works with the vertigo of public space" and makes our palms sweat just thinking about it. And Czech Jakub Frolik gave a nod to Miami's Native American founders with Great Spirit Woods, a calming and deepening artificial forest of steel columns with a cooling aerosal haze.
All of them, arguably, are cooler and more iconic than a new span of I-395 -- but the competition is meant to inspire, not build.
"That's what I hope out of each competition," Perez said, "a conversation about using architecture to bring positive change. Art is very established here -- Art Basel, Wynwood -- but architecture is lost in the shuffle. What I hope to accomplish is to show people what architecture can really do to transform the city."
Check out the winners in the slideshow above, followed by some of our favorite designs from previous competitions.
BEFORE YOU GO
PHOTO GALLERY
Top 100 Buildings In Florida