In choppy seas bloody with chum, miles from the safety of shore, a Fort Lauderdale amateur photographer realized a hair-raising dream: to swim with a great white shark -- without the protection of a cage.
Guillaume Bauch, 25, a French national studying real estate on a student visa, says he has been in the water with sharks more than 100 times, shooting great whites from a cage off the Mexican coast, or hand feeding sharks in the Bahamas.
But it wasn't until a chance encounter Sunday off Marathon in the Middle Keys that Bauch achieved the pinnacle of shark spotting: free-swimming with one of the ocean's fiercest predators.
"It's been my dream forever to be in the water cage-free with a great white," Bauch said. "So I was super excited."
He also had to exit the water rather briskly when the 10- to 12-foot fish nosed a bit too close.
"We had bait in the water, we had chum in the water, so you never know," he said.
Bauch, along with girlfriend Amanda Putnam and sister Virginie Bauch, had chartered a boat with Keys Shark Diving, captained by Bryce Rohrer, hoping to see hammerheads. But after chumming the water all morning about 10 miles offshore, no sharks were to be seen in the 3- to 5-foot swells.
"After three hours I was thinking we wouldn't get anything today and we would probably head back to the dock very soon," Bauch said.
Then a shark glided past the boat in front of Rohrer and Bauch. "We looked at each other and said, 'This is a great white,' " Bauch recalled.
The student clambered into the cage, which was lashed to the side of the boat. But rough seas hindered any photos.
"The cage was just bouncing against the boat," Bauch said. "It was impossible for me to stay still in the water and impossible for me to take any photos."
So Bauch opted to free dive. With only a snorkel, he slipped into the water with the white shark which, along with tiger and bull sharks, accounts for the greatest number of unprovoked attacks on humans.
"I was very scared for Guillaume, and although I know that sharks are pretty harmless, they are still very curious creatures," Putnam said.
The shark was female, and likely adolescent. For about 30 minutes Bauch snapped shots. Then the shark started getting too curious.
(Story continues after photos.)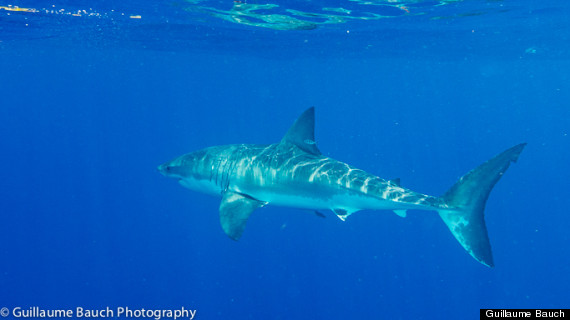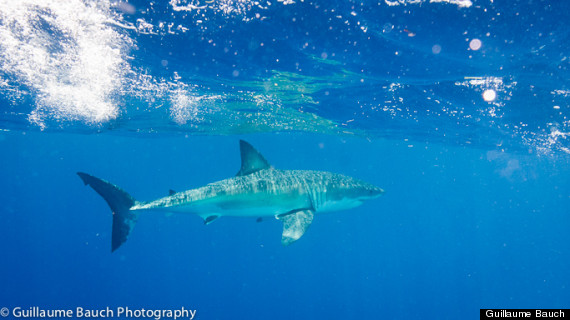 "She was coming straight for the boat," Bauch recalled. "I didn't want to take any risks, so I just jumped back on the boat."
The shark soon disappeared.
White sharks, while rare off South Florida, have made more appearances here recently. Experts say the migratory fish, which prefer the cold, cruise into local waters when temperatures stay cooler, as they are this season. The sharks also follow spawning amberjack, especially in the Keys, where experts say fishermen sight them once or twice a year.
White sharks may be becoming more visible, experts say, because their numbers are increasing. That's because their prey animals -- the northeast gray seal and northern Atlantic right whale -- finally are beginning to thrive after decades as protected species.
Bauch's experience was unique among South Florida divers, said Jeff Torode, owner of South Florida Diving Headquarters in Pompano Beach.
"It's extremely, extremely rare," said Torode, who's been diving locally for 23 years. "We've never seen one. I do know a guy that claims he has, but I can't swear by it."
rnolin@tribune.com or 954-356-4525 ___
BEFORE YOU GO